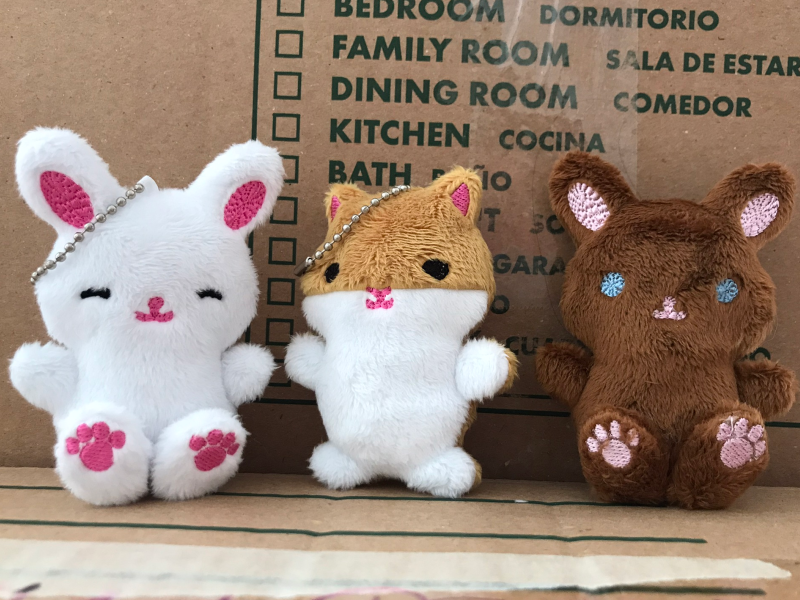 Fri, 24 Mar 2023
My Ko-Fi has gotten kutesy. Er, cutesy.
I hadn't really intended it to, it just... happened. It's not going to persist - I've got a ton more kawaii critters to make, but they'll be regular for-sale designs so if you want to go all-in on them you can, but you aren't stuck with them as your subscription forever. But the KoFi is pretty much going to be entirely minky (and felt) in-the-hoops, I think. Well, plus the little vinyl extras like emoji tabs and things, there's always room for bonuses.
I'm going to intro a new tier next month* where I can put my more advanced designs, where the chihuahua and, yes, the standing dragons will end up. Chihuahua, adult dragon, baby dragon, jointed teddy bear, jointed elefriend... I've got a lot of designs to polish up and write instructions for, and I'm very excited to put $120/yard mohair into my embroidery machine and see what happens. (Don't worry, the pattern will still work with inexpensive upholstery velvet, but I have mohair left over from my bear-making days so...)
I've been taking notes on the various vinyl and regular embroidery designs as well, and while Ko-Fi doesn't have a way to have separate tier tracks, Gumroad does. So I'll probably start mirroring the kawaii designs in one tier, and then set up another tier for notebook covers and valet trays and zipper bags and whatnot. Once I see how the advanced minky design is going, I'll get that one started.
* hopefully; the move may collide with that since we still don't have a date for shed delivery and thus can't schedule the truck. If not April, then May.