Fri, 21 Jun 2019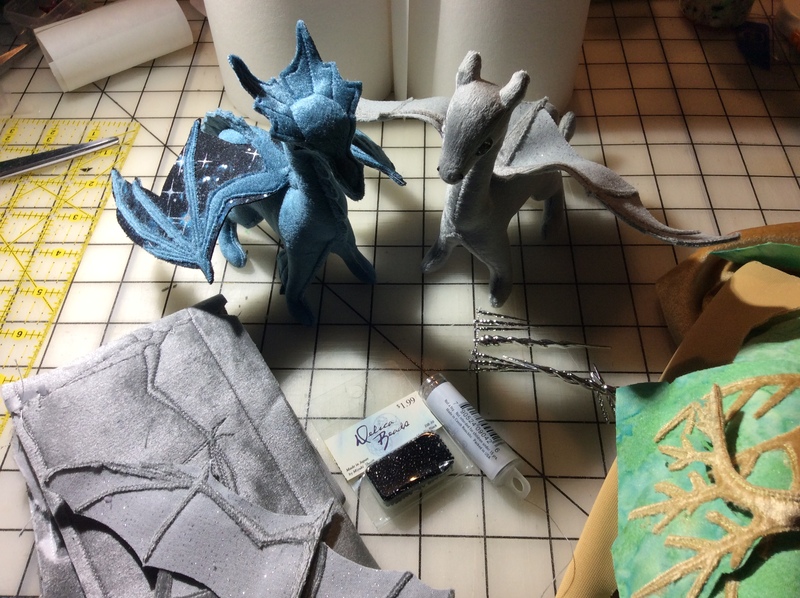 The art-doll style dragons are proving to be pretty hard on my wrists. I have both tendinitis and carpal tunnel going on, neither of them very serious (yet!) and turning tiny dragons, jamming stuffing in until they're rock-solid, and then hand-sewing openings and wings and such through multiple thicknesses of upholstery fabric requires a lot of effort.
Of course, that's not all: I have managed to forget to cut out the topstitching window in two or three wing sets. I finally gave up on the silver one and picked all the stabilizer out of the topstitching instead of redoing it).
At any rate, I am almost ready to start listing them again. As I've mentioned, I have two Etsy slots for them, so my plan is to get four finished (or nearly-finished) dragons, list two, and be ready to fill a slot as soon as it sells out.
The silver sparkle dragon just needs its wings sewn on (they're just resting in place there) and its horns attached and it's done. It's probably the last dragon I'll make that I have to turn.
The blue dragon started out as a sea dragon – the wings are based on a guillemot/murre, which uses its wings to swim underwater like a penguin as well as fly above it. But I didn't care for the contrast of the first wings so now it has blue star-and-nebula wings, and its name varies between "lesser sea dragon" and "sea-of-stars dragon." It's done except for finding a glue that will work on the eyes, and for picking the white stabilizer out of its seams.
I reverse-sewed it like I did the silver dragon (remember the silver dragon? I'll get back to it, I promise). I didn't have to turn it, but I did sandwich the stabilizer in to act as interfacing in the crest, and it doesn't tear away easily without shredding the raw fabric edges. It wasn't as visible on the silver dragon, but it really shows up in the blue.
I have another silver dragon in the works, reverse sewn but with gray cotton as stabilizer. True D&D nerds will recognize it from its wing, in the foreground waiting to be cut out: a Dungeons and Dragons silver dragon has two "thumb" claws on each wing. This one won't be quite as ornate as the earlier one; more on the order of the lesser sea dragon.
The fourth is the teaser on the right: an over-the-top six-hooping Greater Sea Dragon. The previous ones are all four hoopings: body, legs, head, and wings. I'm pretty proud of that one. The mockup went fine, but the real thing has required a couple of restarts. I've current gotten through three of the five hoopings, and only tackle them when I'm feeling particularly focused.