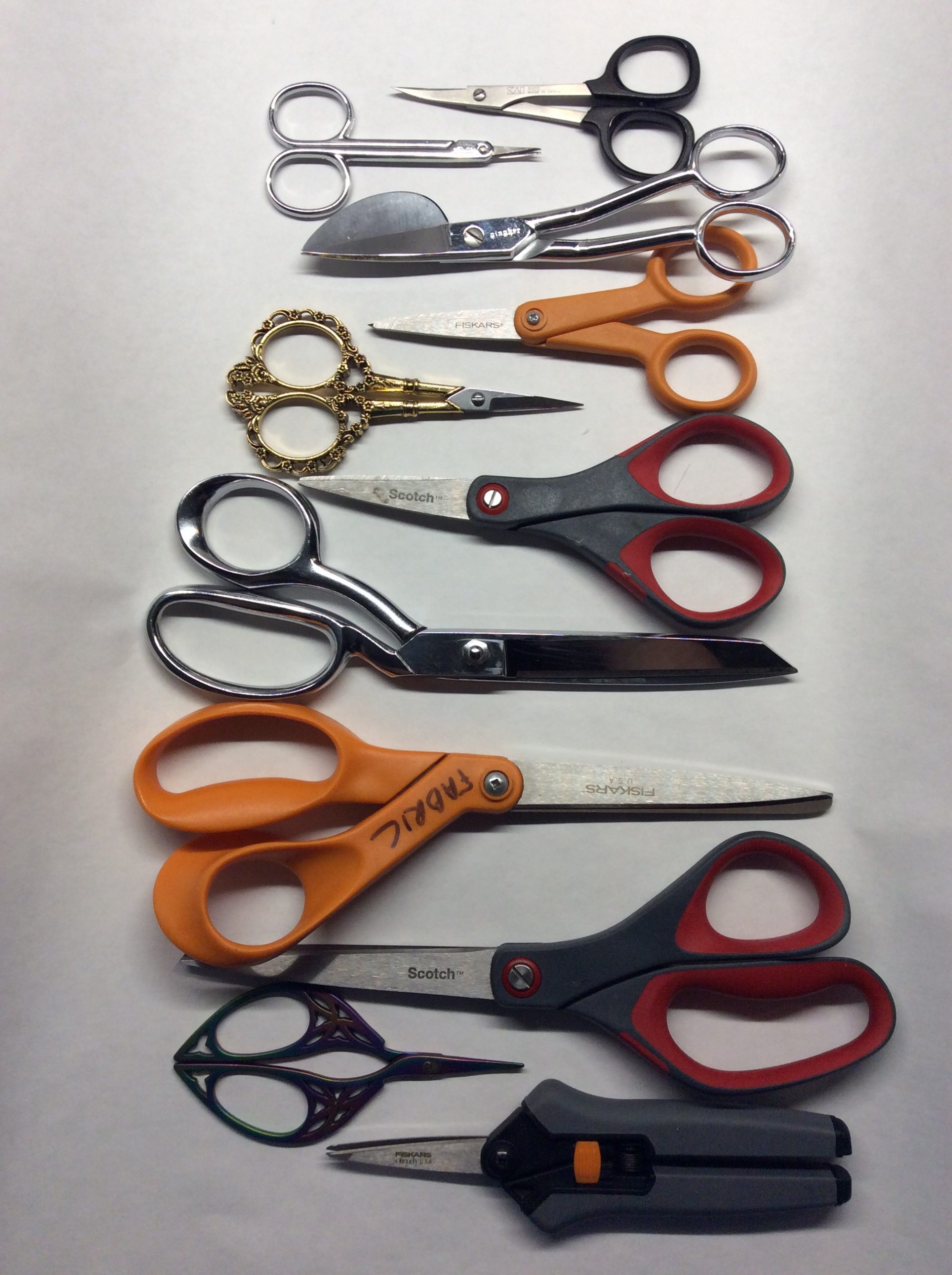 Fri, 10 Jan 2020
You might think I have too many scissors, but in fact I have not enough: all these and I'm missing the ones I really want.
Top to bottom:
A deadly little pair of Kai needlecraft scissors 📦. I got these to clip jump threads but they're so pointy I end up only using them to clip loose threads.

A bent-tipped, misaligned pair of embroidery scissors only identified with a "KOREA" stamp that I use to hook and clip the first end of a jump thread.

Mom's Gingher applique duckbills. I could link to them on Amazon but, um, I don't like them.

An older pair of Fiskars 5″ micro-tips 📦. They're not great but I have a little keychain sharpener 📦 so they're always reliably sharp*ish*.

A pair of thread scissors I got for Christmas, that are probably these 📦 since there's also a stork pair that I haven't unbagged yet. They're decently sharp, and I should probably try them in place of the Kai/Korea pair.

The smaller of a set of Scotch scissors that I use for cutting paper.

My trusty, decades-old Ginger dressmaker's shears📦, which have cut denim, faux fur, mohair, upholstery vinyl, you name it, and somehow I have never gotten them sharpened. Not that they don't need it, just that I have never managed to get around to it, and they have a nick two-thirds of the way down the blade that I've worked around for years. I have a second, even older pair that were Mom's, and that she and I used to cut lots and lots of polyester double-knit back in our Stretch-n-Sew days.

My backup shears, which I don't think Fiskars makes anymore — they also get sharpened (honed, really) on the keychain sharpener but probably need professional attention too.

The other half of the trusty Scotch set. This one gets used to cut adhesive papers and other things.

A pretty little rainbow set of thread snips that are great for Instagram pictures but not much else. The fact that they're barely showing any color in this picture shows that I am a bad Instagrammer.

A pair of Fiskars Softouch that Amazon only sells as "pruning shears" (and doesn't allow direct linking to) and that I have a love-hate relationship with because the latch doesn't hold them closed when it's on the table, and keeps catching when the scissors are in use and why have I not just taken it off completely?
I went to sit down and cut out minky but of all these, the ones I want aren't here: my other pair of duckbills. They're finer than the Ginghers but still built like dressmaker shears — the tips won't twist when snipping several layers of minky or felt. The two small Fiskars are a close second, and update: it's possible to take the annoying latch off the Softouch in such a way that it could be put back on. A few passes with the keychain and new teal dragons should show up in the shop tomorrow.