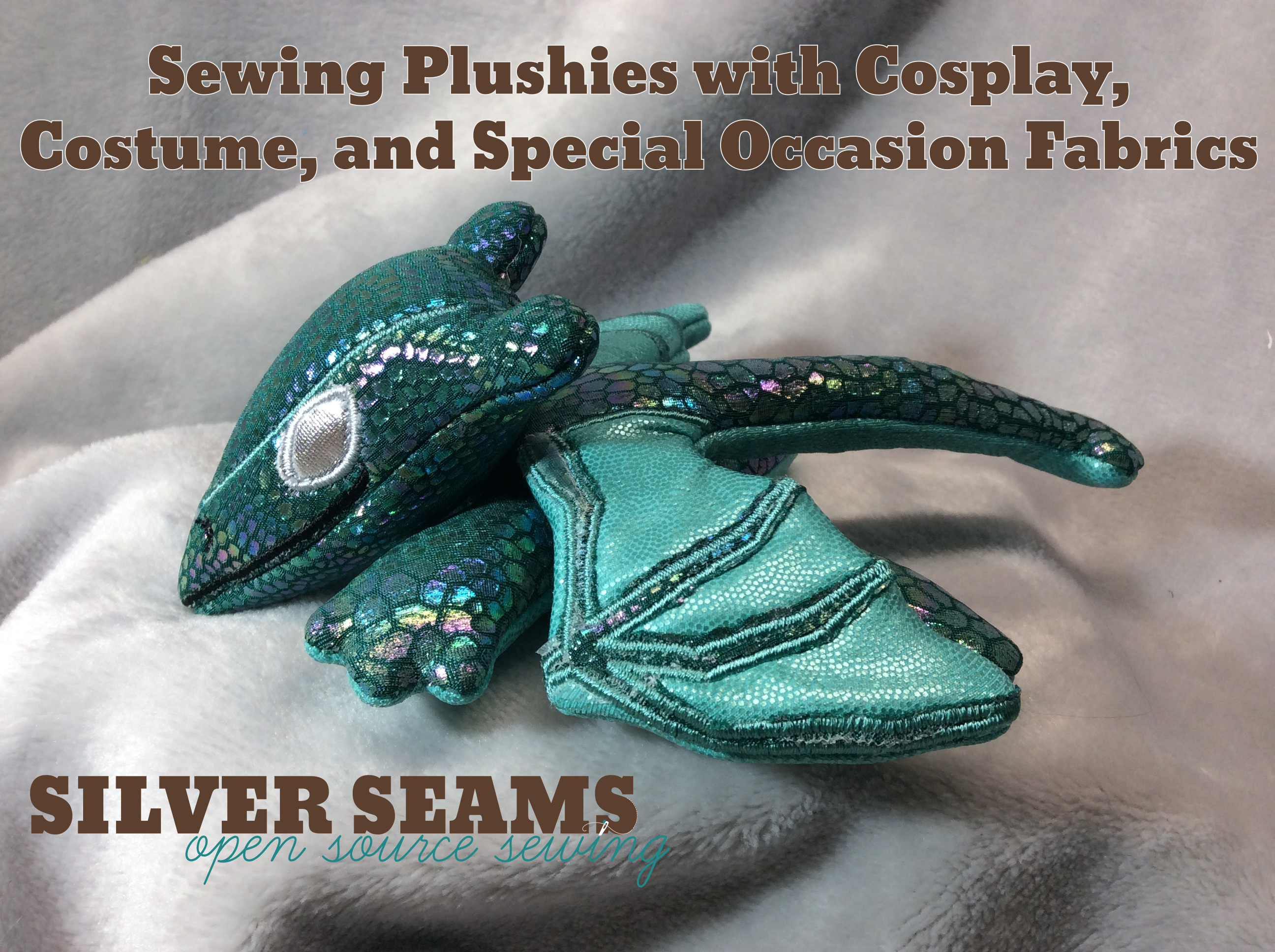 Wed, 18 Sep 2019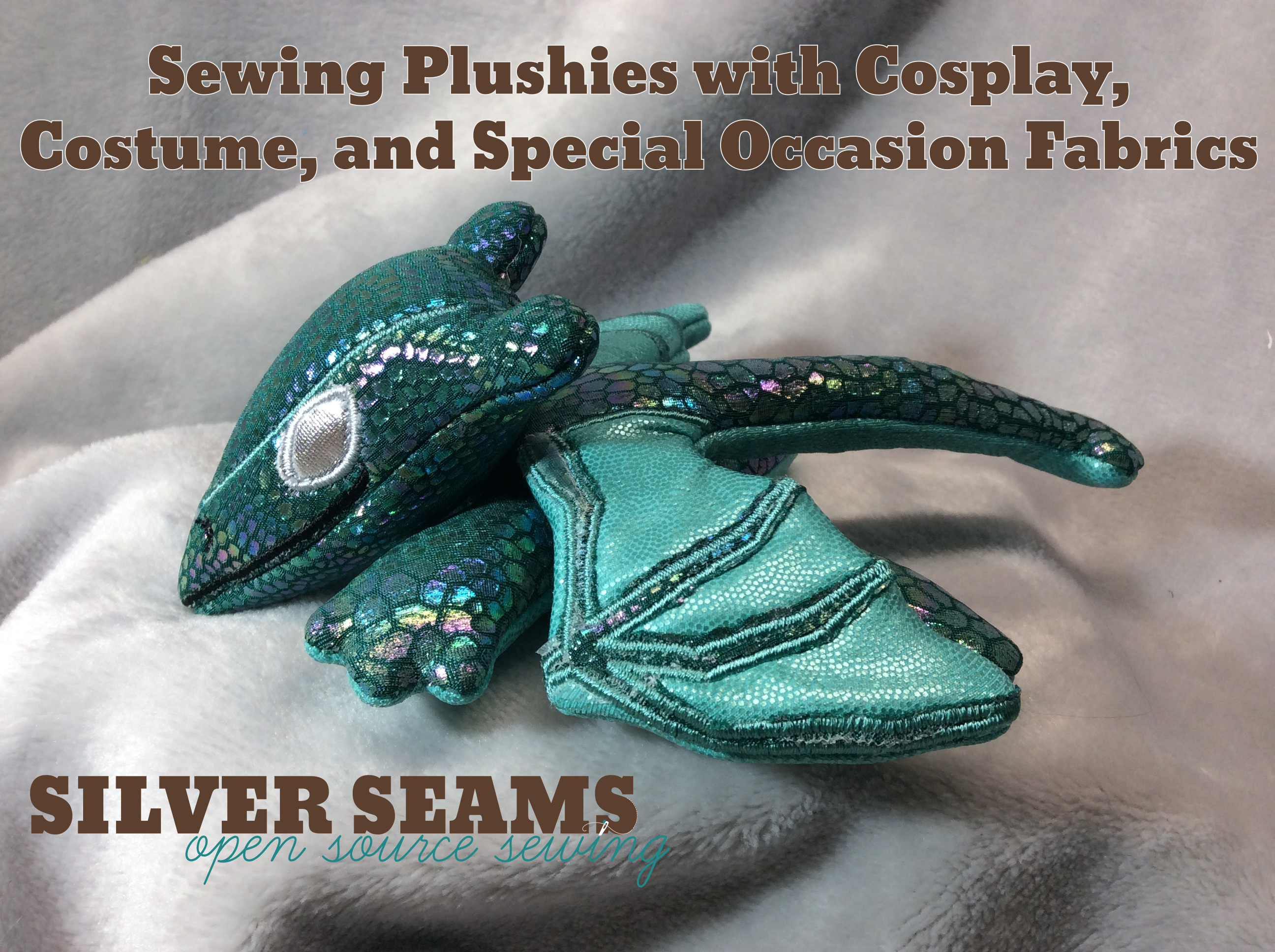 I am a sucker for novelty fabrics, so right now – coming up on Halloween in a year that's seen fabric stores (well, JoAnn anyway) lean hard into the cosplay trend – is catnip for me. I was just picking up some thread when a check of the remnant section turned up some of the green holo scale fabric.
I already have this fabric in black, white, and purple, which might surprise people because you're right, you haven't seen a dragon made from it here yet. I started one of the standing plushie dragons, and got as far as sewing and stuffing its body before setting it aside because the thin dancewear-type fabric just showed lumps and wrinkles way too much.
I happened to pick up a chunk of clearance fleece at the same time, thinking I might make some beanie dragons out of it. It happened to match the mint-y teal-y color, so I thought maybe this time I could compromise and use the scale fabric as an accent and let the fleece carry the structure and, well, of COURSE.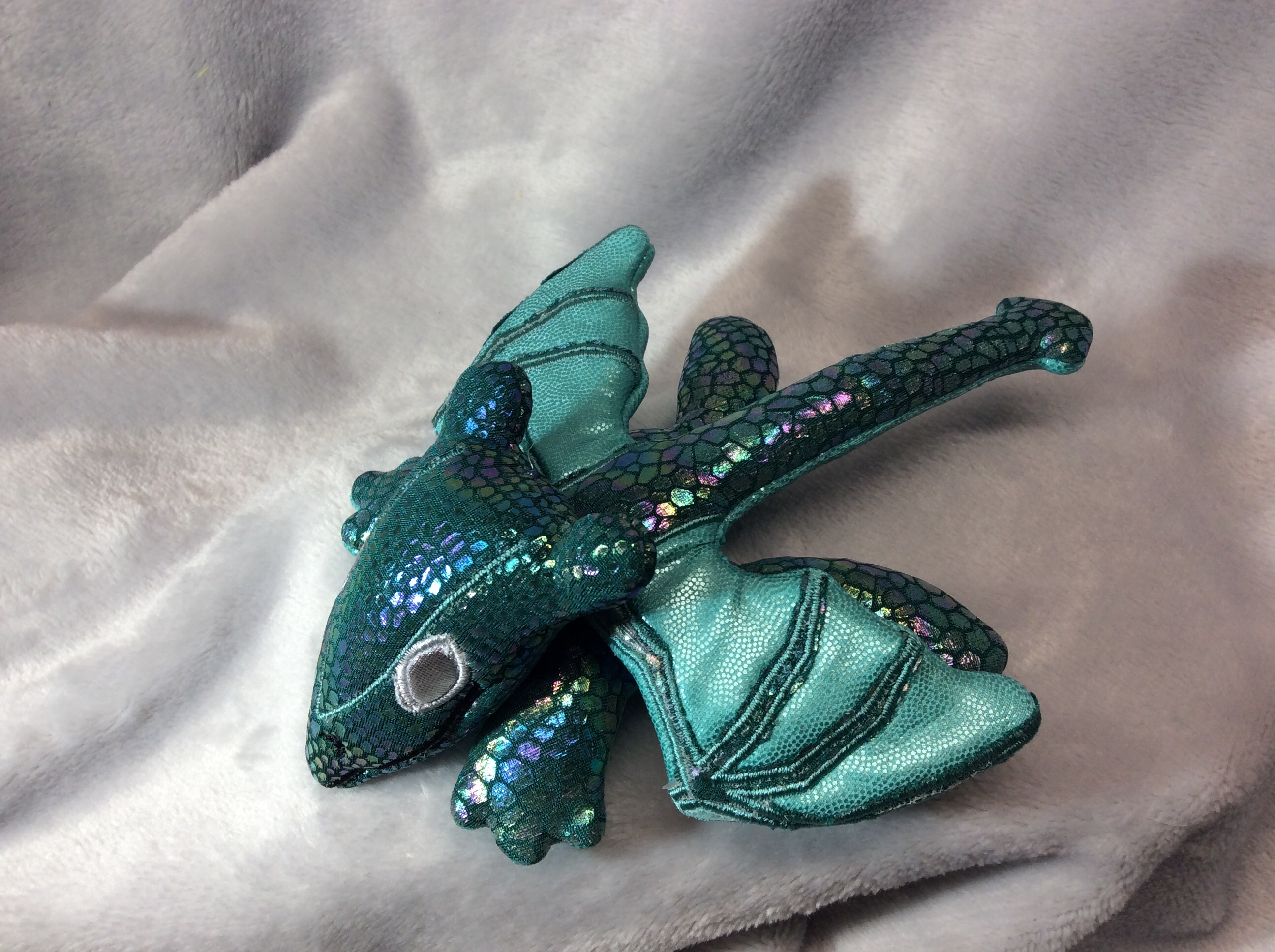 I've solved the lumpiness problem in costuming before, when I had the perfect fabric for a dinosaur tail in quilting cotton. I interlined that tail in half-inch foam, so fleece was just scaling down the idea.
"Interlining" is just a matter of cutting a piece of lining fabric the same shape as your main fabric piece, and sewing it as one. Sometimes you baste the two together in the seam allowance, but since I was running this on the embroidery machine I was dealing with rectangles and not pre-shaped pieces.
Now, not all fancy fabrics work to make plushies, even with interlining. They're not made with the expectation they'll be sewn into tiny pieces that will rub past each other while simultaneously being stretched into sharp curves and so on. A lot of foiled fabrics will rub the shiny right off doing this. Both the scale and dot fabrics here have gaps, and they're a rubbery material, so there was less cracking and splitting than usual. The price to pay was that they're a little grippy, and that tail was only barely possible to turn. Test your fabric before you commit to it: stretch it, rub it against itself, see if you can damage it. (If you're doing this on the bolt in the store, please confine yourself to the selvedge!)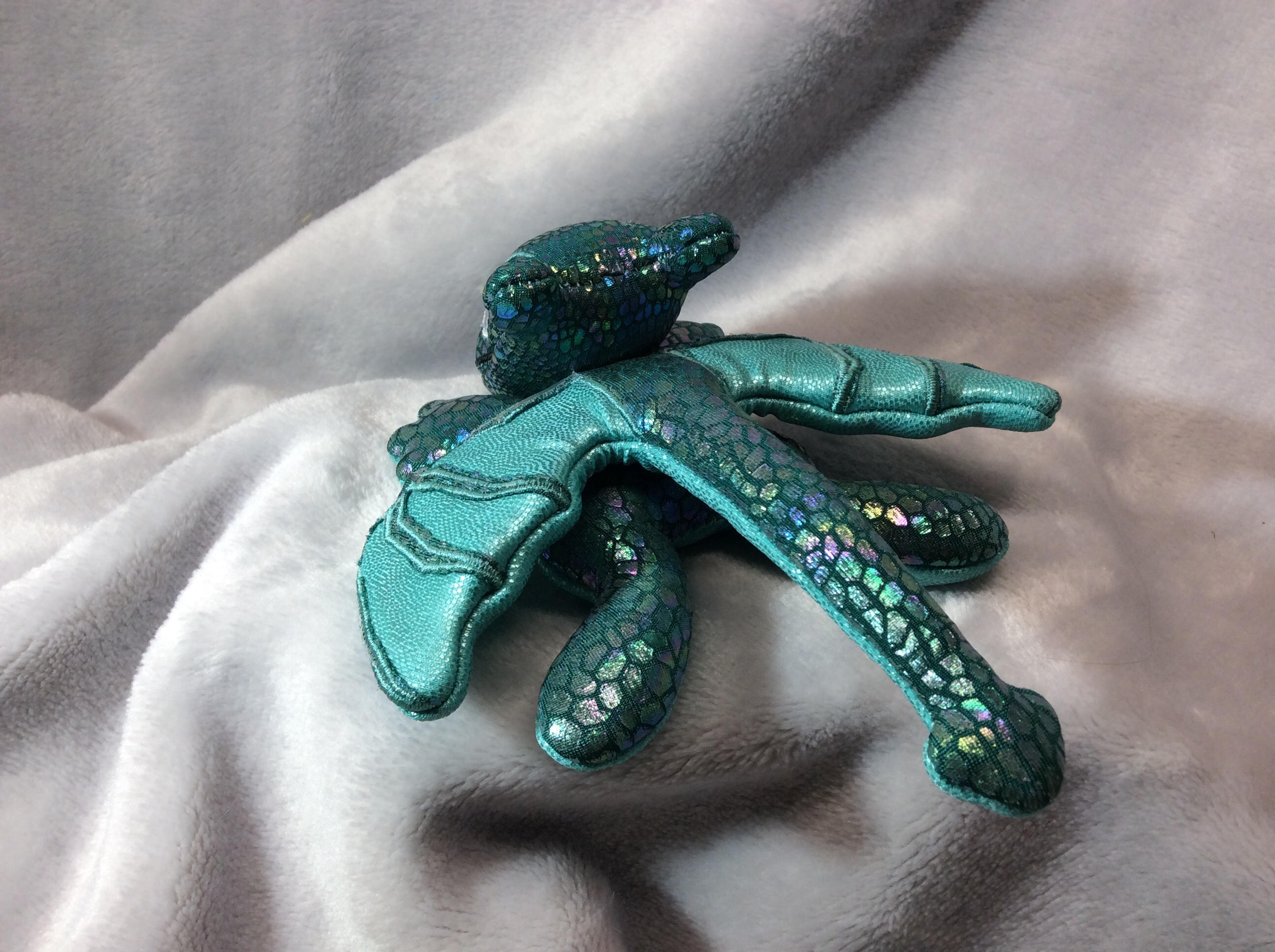 Others are woven fabrics, which definitely change the dynamics of sewing plushies. Monday's post was all about dragons I made with quilting cotton but there are three factors at play there. One, the patterns are made to be flat-sewn (matching two same-shape pieces together, no fitting curves). Two, in all cases the woven fabric is on only one side, leaving the minky on the other side to make up for the lack of stretch. And three, they're all very small pieces, so there isn't a lot of wrinkling and easing to happen. For a larger plushie, you'll have to add more darts and easing to use a fabric without stretch.
Even some knits lack sufficient return – if you poke it with a turning tool, sometimes you're left with a bloop that doesn't flatten out. Interlining will shield it from that somewhat, but be careful about your turning tools.
Dancewear/swimwear fabric tends to be tougher than costume/special occasion fabrics. For fray-prone wovens, you'll definitely need to leave a generous seam allowance to keep from blowing out toes and noses and whatnot. Again, a tough interlining will help take the strain off the outer fabric, but a stretchy interlining will help less with a woven outer fabric so think about using a muslin interlining for a woven fabric. You can even interline your interlining if you need the loft of the fleece but the stabilization of a woven interlining.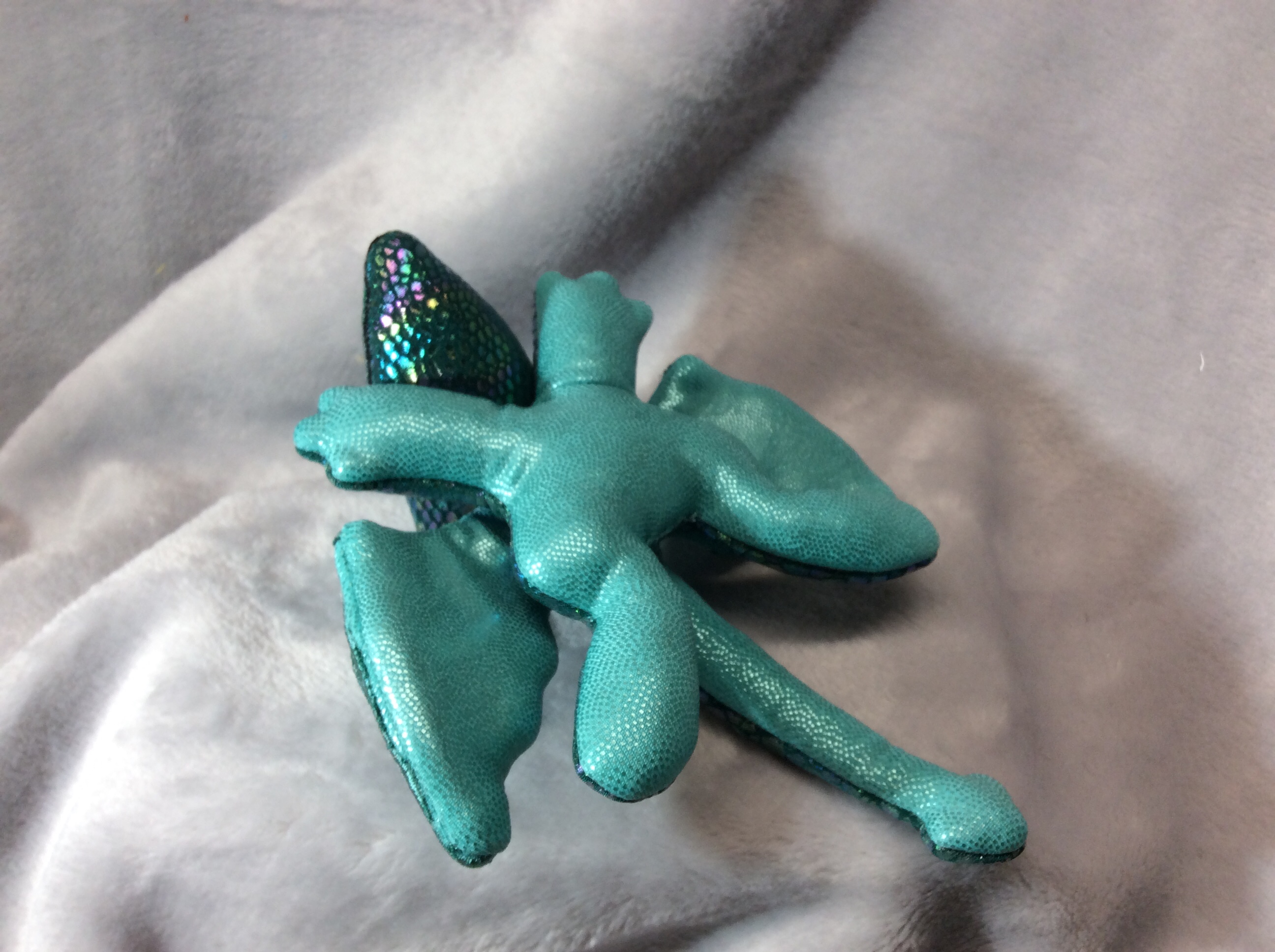 The interlining was key, though. The beanies have, well, beans (tiny plastic pellets), and with a thin dancewear fabric alone that belly would have been a weird pocked landscape.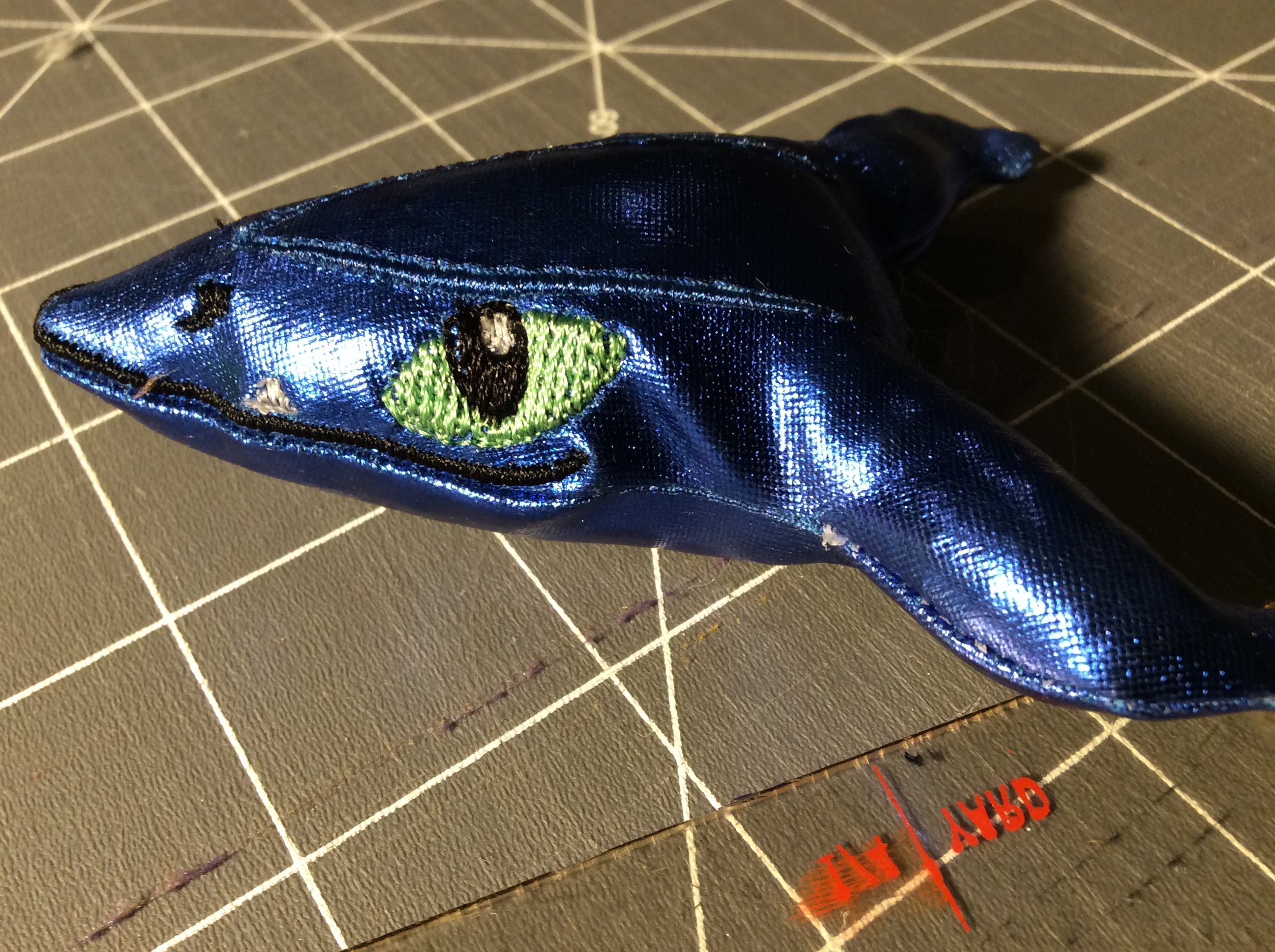 A non-interlined plushie made with dancewear fabric has to be stuffed to within an inch of its life, bloating it and, in the case of foiled fabrics, distorting or tearing the surface decoration. Otherwise it's prone to developing lumps and pleats and bloops and tucks that would be hidden by a pile fabric but which are right out there for everyone to see on a sleek foiled swimsuit fabric.
Interlining does add bulk to the seams, though. Trim the seam allowances, especially on flat things like the wings. If I did it again I'd have used something lighter, probably a flannel, in the wings. They're flat even after turning so a woven interlining would be fine, and it really only needed the reinforcement on the upper side for the satin-stitch applique.
And ohhh, that applique… Dancewears are soft and stretchy and grippy and they love to grab onto the flat part of scissors and raise up a little wrinkle that will get snipped without you even feeling it. Sharp scissors can easily slice into it, and even applique scissors don't entirely fix it. I like the effect on the dragon wings, but be warned: any time you need to cut away something from the surface of a fabric like this it adds a lot of labor and time and possibility for screw-ups.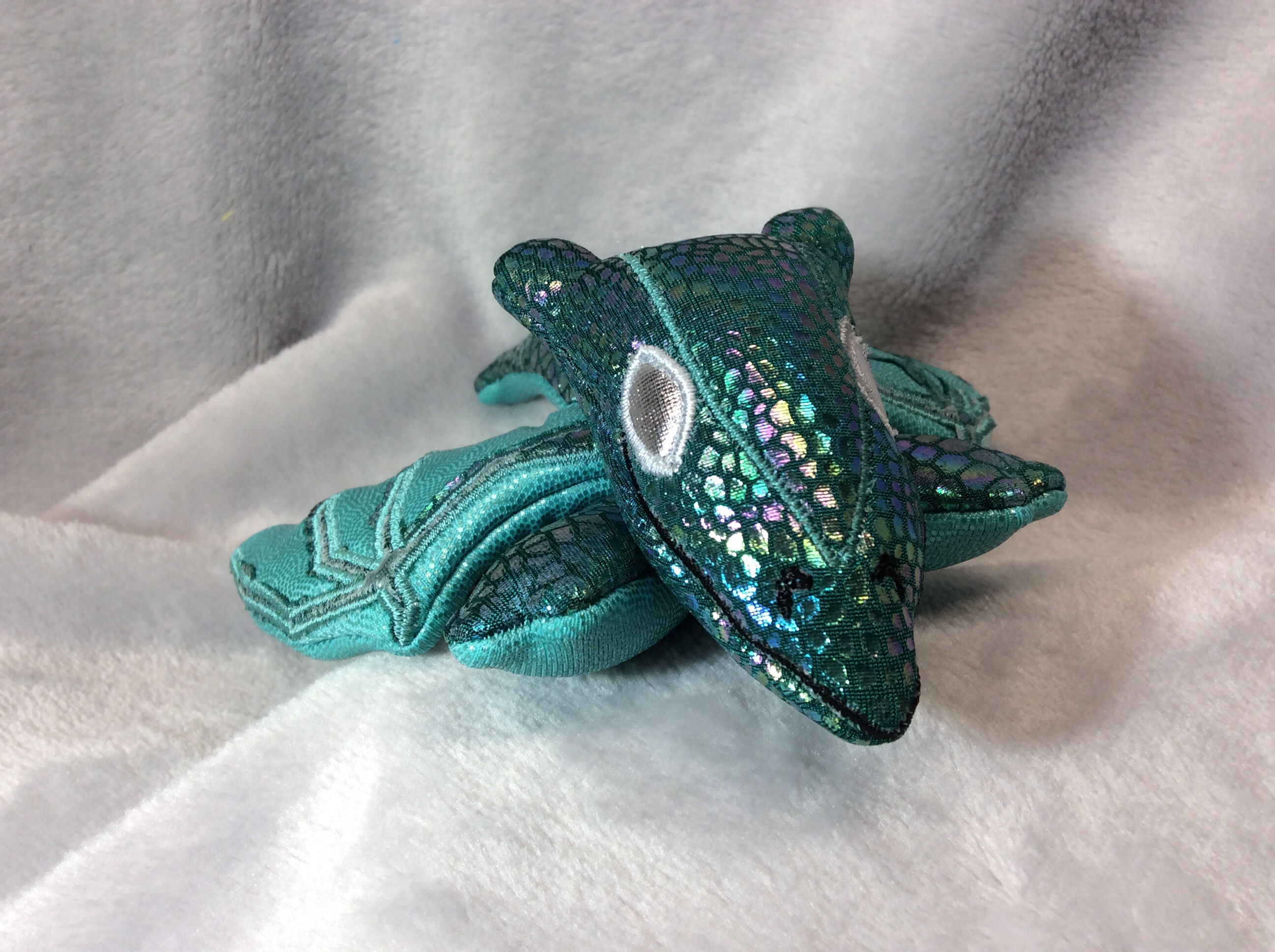 Long story short, you can get some really neat results with specialty fabric, but be prepared to coddle it a little… or a lot.