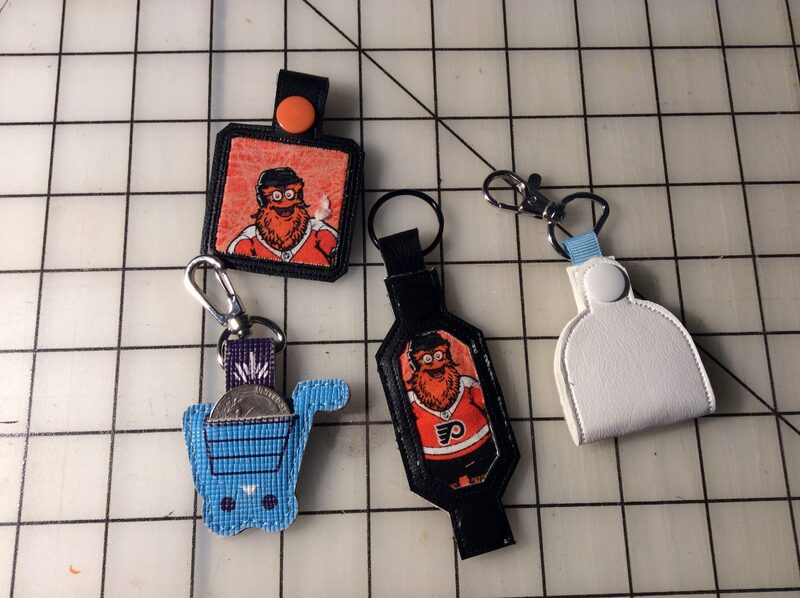 Wed, 29 May 2019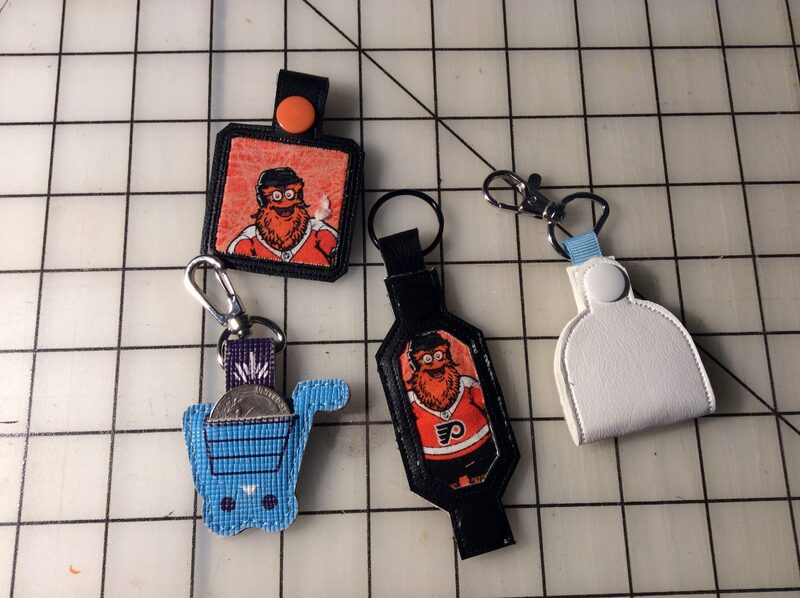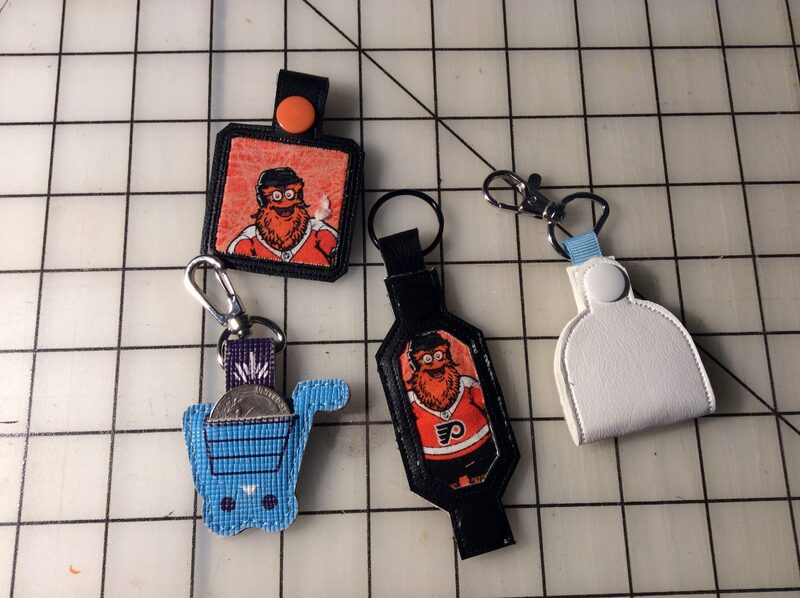 Today was a "learning from my mistakes" sort of day.
I have been dialing back on things a little to give my wrist a rest (since I worked all through Memorial Day weekend), but after a trip to Aldi I thought I'd do a little something for myself.
Aldi requires a quarter deposit to free up its shopping carts. There are no cart returns in the parking lot, and no employees running around collecting abandoned carts. It's a small store and a small lot, and you just take your cart back yourself or, if it's busy, someone will come up to you as you're unloading, brandishing a quarter and offering to "buy" your cart from you.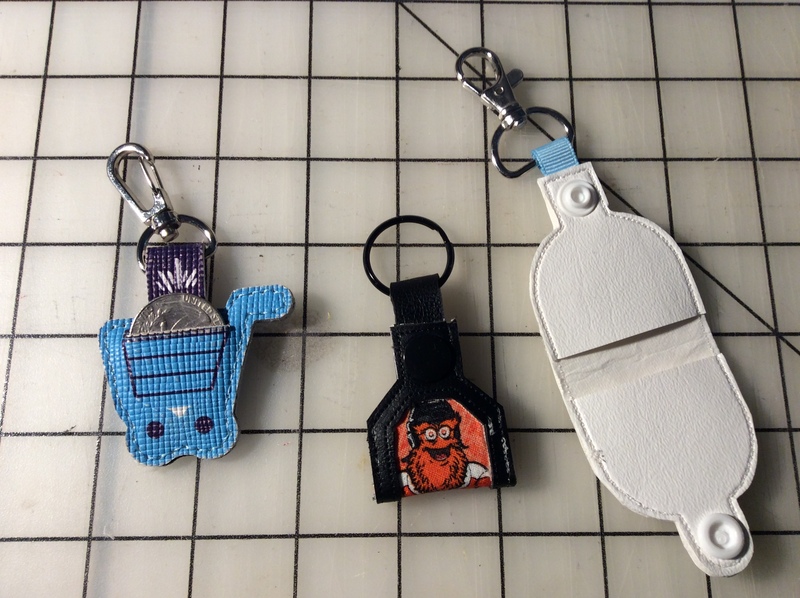 Occasionally they sell little official quarter keepers, and I bought one which I hate. The quarter goes all the way in and a little past the slot, and requires prying back out with fingernails. Plus, I always want *two* quarters, because you'll often run into someone fumbling for a quarter or just staring at the chains in newbie confusion. So I made a little bi-fold quarter keeper.
My first draft (the white one) was a little large. Clearly I've been traumatized by my too-small official keeper, but I wanted to make sure the quarter didn't get stuck. Instead, the quarter falls out too easily and unpredictably when you're opening it. I also decided trimming the curves was too finicky, so I opted for a more angular design. Lastly, since I got hold of some Gritty fabric, I decided to make an applique window.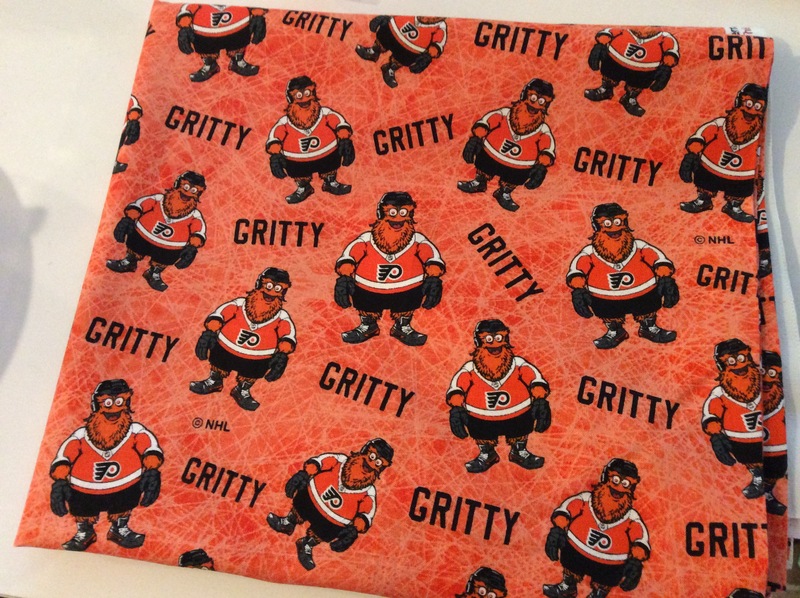 Here's where I started making mistakes. Quick and dirty little thing, right? Good time to try out wax paper on top of the vinyl to see if it keeps things from sticking. It does, but it is kind of a pain to get out of the stitching so it's fine for fill embroidery, not so much for topstitching.
Then I was in too much of a hurry and forgot to put in the ribbon until it was almost up to that point in the stitching. I didn't have any black or orange or even white ribbon narrow enough, so I cut a piece of vinyl and stuck it in without taking the hoop off, and of course it didn't end up straight.
Then I was too lazy to walk across the room and get the good applique scissors (the Mundials 📦) and so I used Mom's Ginghers, which are much coarser, so the (reverse) applique window isn't as neat as it could be.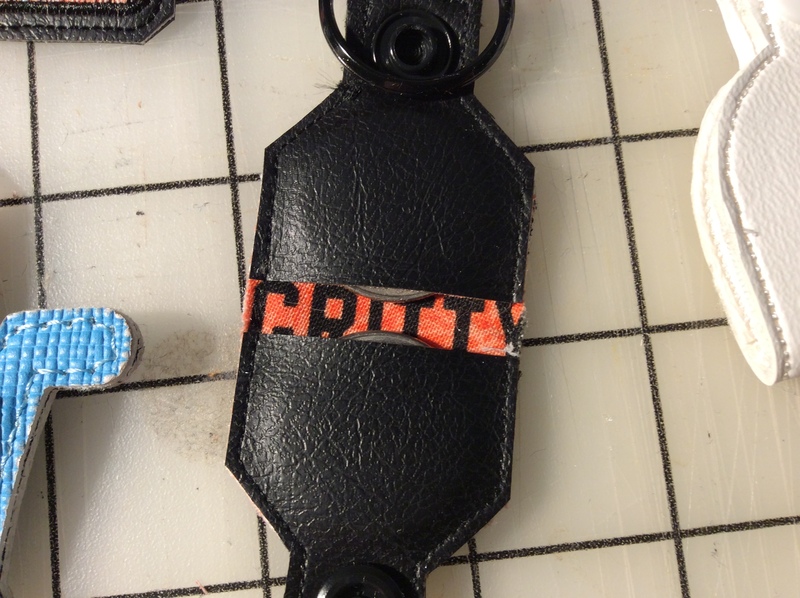 I also lined the quarter pocket with more of the Gritty fabric which was probably a mistake; it's going to fray around the edges in the 1/16″ between the topstitching and the edge. I could have gotten around that with some fray-check (and still can, but the stuff is nasty) or by ironing some Heat-n-Bond onto the back of it. The fabric only had the words in one size and they were a little too big for the space, but it still amuses me.
I also realized, come snap insertion time. that the vinyl "ribbon" was almost down to the snap insertion point. Since I only have regular orange snaps instead of longs (and only round, when 🧡 would have been ideal), the snap came together at an angle and broke off instead of inserting. After trying (and failing) with three of them, I finally gave up and put in a black one.
All of which is to say: the design is fine, but I'm going to make a nicer version before I write up the instructions. It'll go on the free embroidery design page when I do.