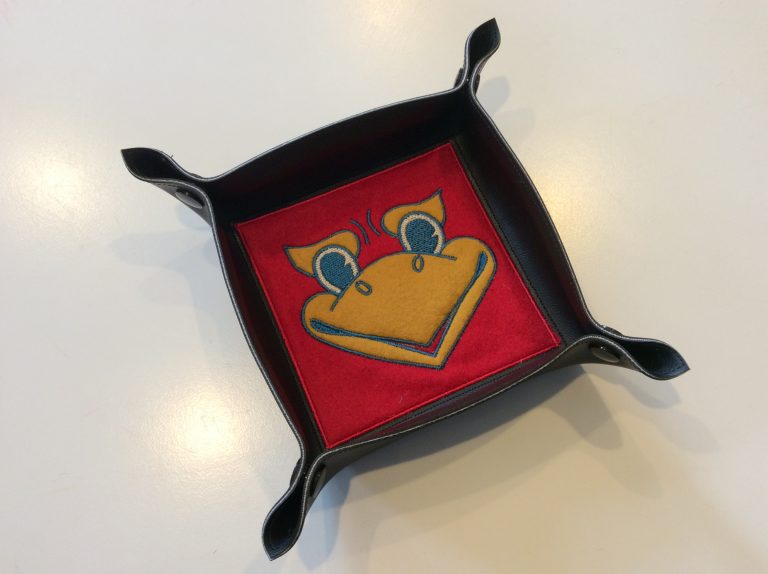 The nickname for a Kansan is a "Jayhawker," for not-entirely-clear reasons, and so the mascot for the university is the imaginary "jayhawk" bird.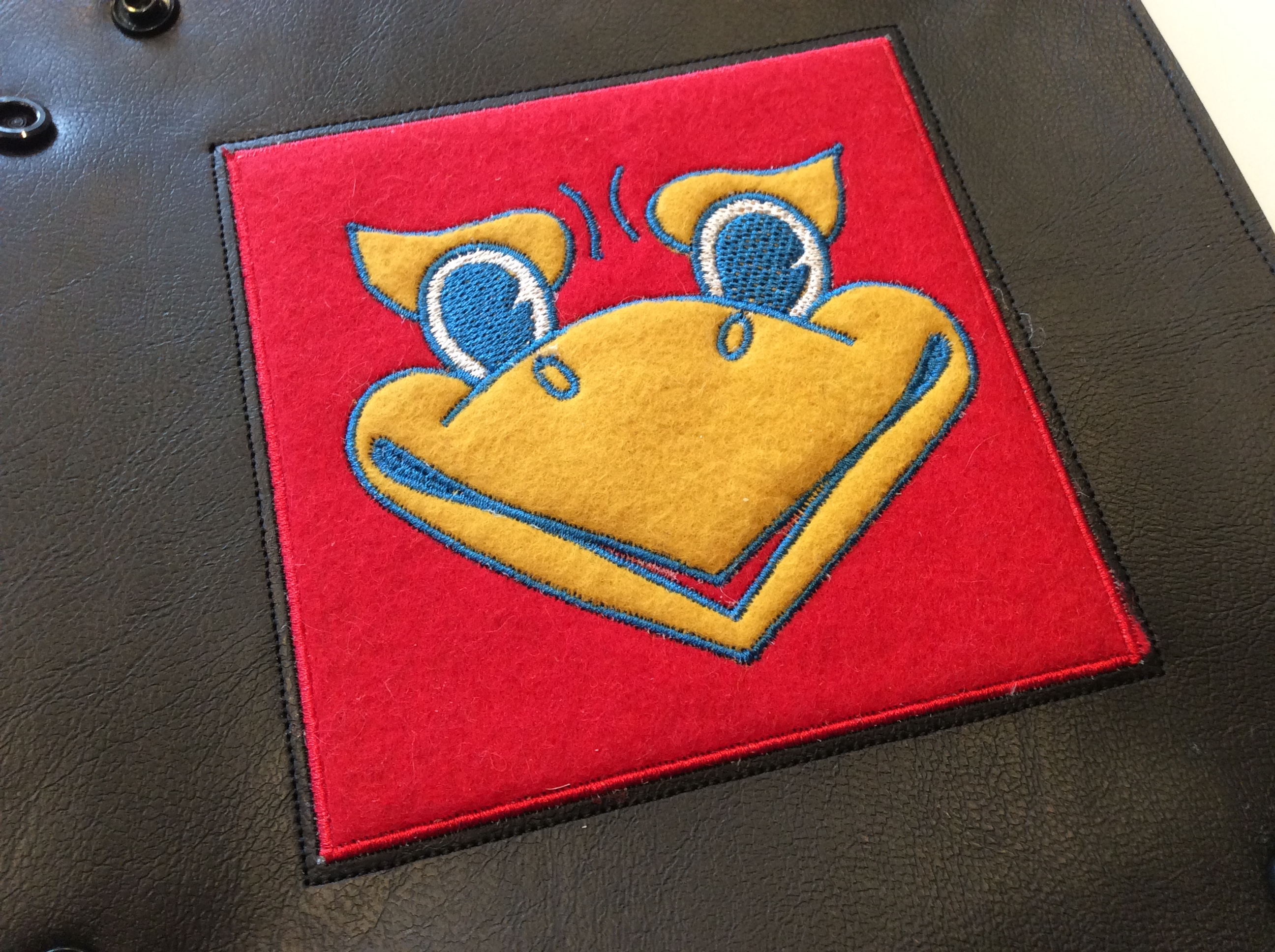 It's a pretty simple stitchout.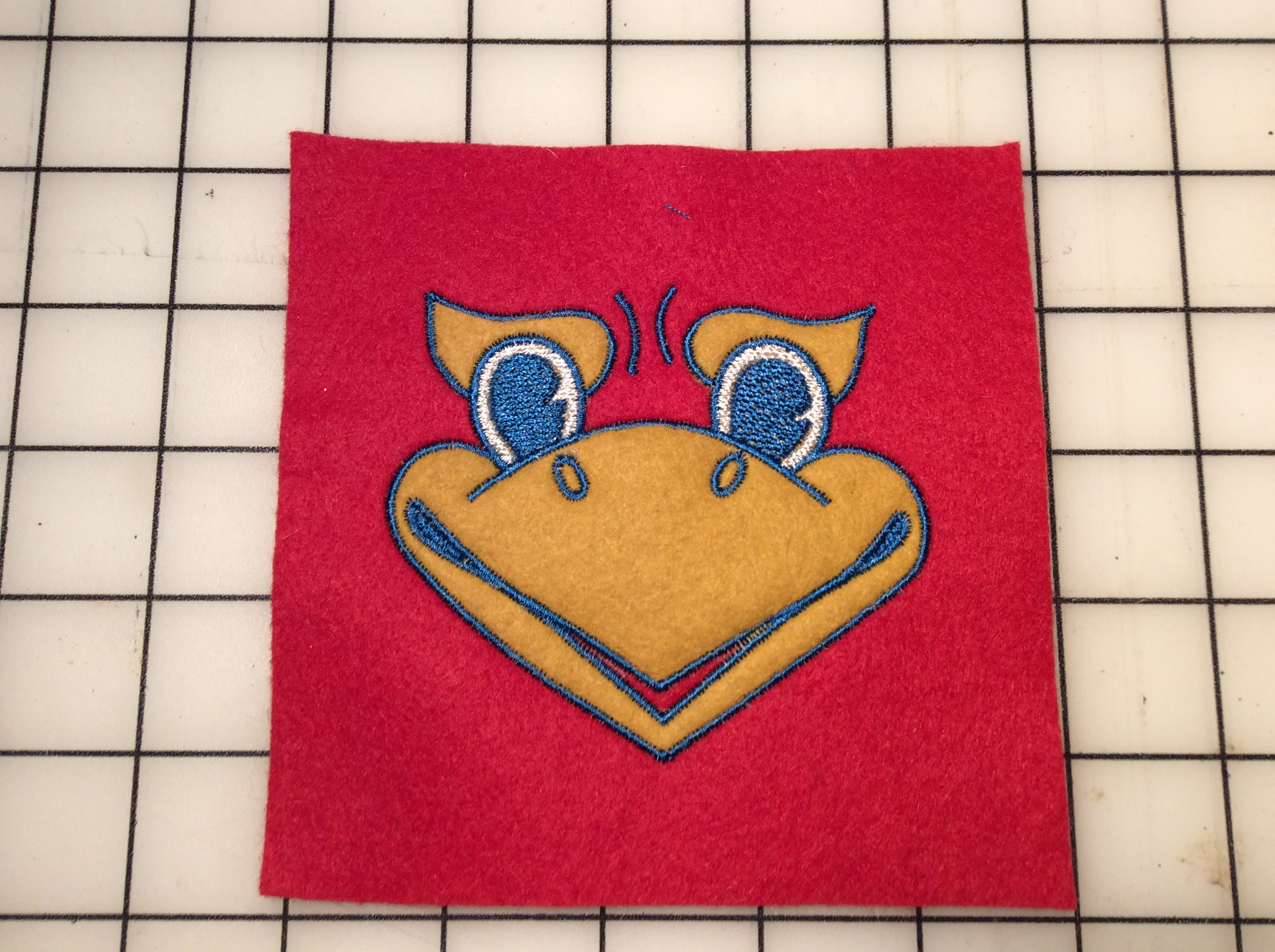 Print the applique PDF included in the file, and cut the shape(s) out of gold (and optionally white) felt or vinyl. I used a continuous piece of gold felt, including behind the eyes, but you can applique the eye whites too if you want. Don't forget to cut the open end of the bill out if you want that to show crimson through.
Gold Placement Stitch - If you prefer, you can use this to tack down the gold, then trim closely around it. Otherwise, stitch it out and place the applique(s), tacked down with basting spray if you'd like.
Eye Placement Stitch - Skip this if you're stitching the eye whites in a fill instead of applique. Either way, cover the piece with light water-soluble stabilizer now.
White Fill - Skip this if you've put in white appliques.
Blue Stitching - The file will trim jumps, but if your machine doesn't do mid-color trims the jump stitches won't be stitched over so you don't need to trim them until the color is done.
When your piece is done, you can use it as an applique in a valet tray like I did with the original version, or trim it to the desired shape and sew it on as a patch, or use it as a panel in a zipper pouch.
As with other free embroidery patterns here, the SVG file is included in the ZIP package so you can modify it in Inkscape and produce your own variations/sizes/etc.
This is copyrighted by Silver Seams in the year noted in its URL, and licensed under Creative Commons' CC-BY-SA. This basically means you're free to sell items you make from it, provided you give reasonable attribution, and that if you modify it you're required to share your changes with the world under the same license (the actual legal bits are in the link).
This is a fan work, not licensed or endorsed in any way, so it's up to you to get any other permissions you need from the IP owner.