Motel key fobs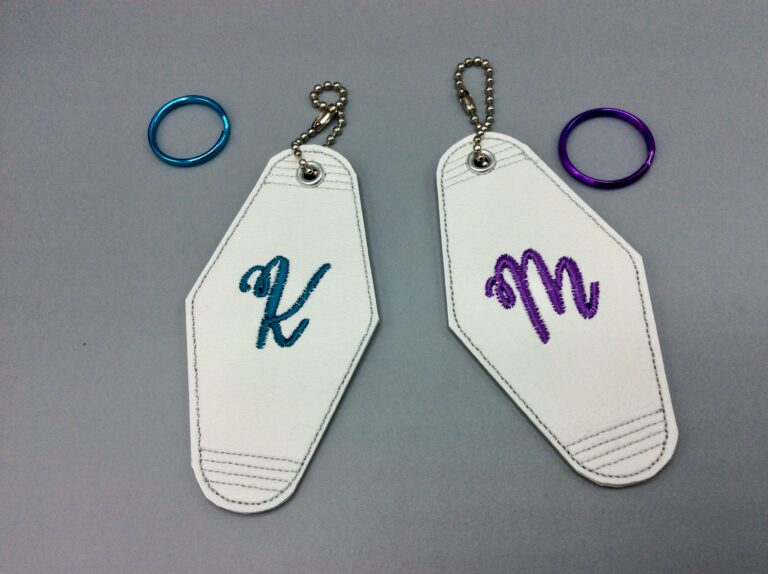 Another little freebie: a blank "vintage motel key" design. You can use your embroidery machine's lettering or purchased alphabets to add a monogram (I used DLB's Melody alphabet) or imaginary motel's name. Or just put a fun image on there, or use fancy vinyl.
There are three layers in the SVG file. A blank design layer, the "texture" layer which will give you the little horizontal lines, and the outline layer. if you're using the pre-generated design files instead of Ink/Stitch: there are two thread colors, one for the texture and one for the outline. Generally you'll use the same color for both, but this gives you a stop between them.
For these, I added the back vinyl after the design so the texture is on both sides, but you can do texture on the front only or you can skip it altogether. The outline layer includes a circle for the hole placement. You can use a leather punch 📦 to make a neat hole in the middle of it, and either leave it as is or put an eyelet in.
If you're using split rings, adding a half-inch jump ring (ideally a split-ring type, since it will need to be sturdy) in between will give it a more finished look. I'll probably do that before I send these out (to family) because the matching split rings are just too nifty.
As with other free embroidery patterns here, the SVG file is included in the ZIP package so you can modify it in Inkscape and produce your own variations/sizes/etc.
This is copyrighted by Silver Seams in the year noted in its URL, and licensed under Creative Commons' CC-BY-SA. This basically means you're free to sell items you make from it, provided you give reasonable attribution, and that if you modify it you're required to share your changes with the world under the same license (the actual legal bits are in the link).