Tiger dragons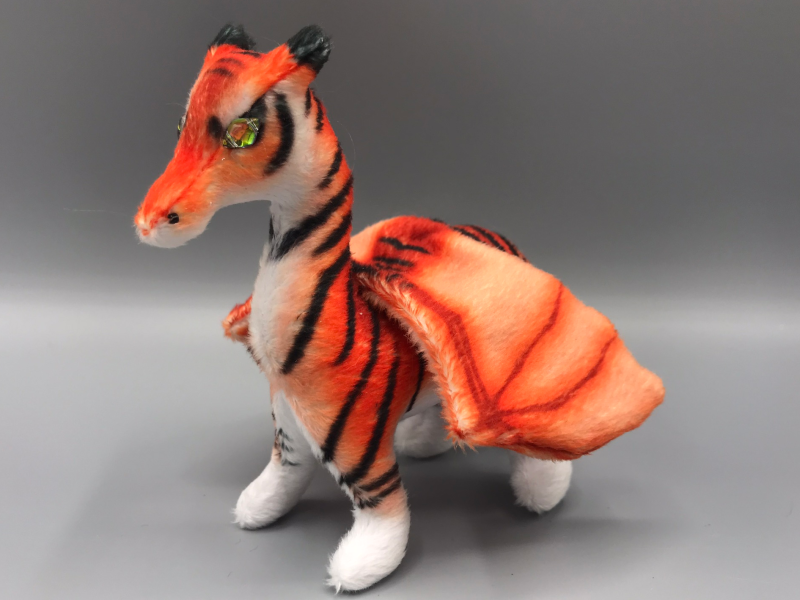 Usually I try to reserve weekends for cleaning up and personal projects, or at least off-schedule projects that I can't let go of. But with my schedule being so overloaded I ended up spending my embroidery-machine time over the long weekend doing mostly a large made-to-order request that came in. But I did manage to squeeze in a couple of fun things.
Tuesday night was the deadline for Spoonflower's half-price/free-shipping fat quarters (and they didn't extend it for once, I just noticed). I have a piece from the last sale I hadn't tried out, so I decided I should give it a go. I've been subconsciously putting it off because it's got such potential to screw up and… it actually went well.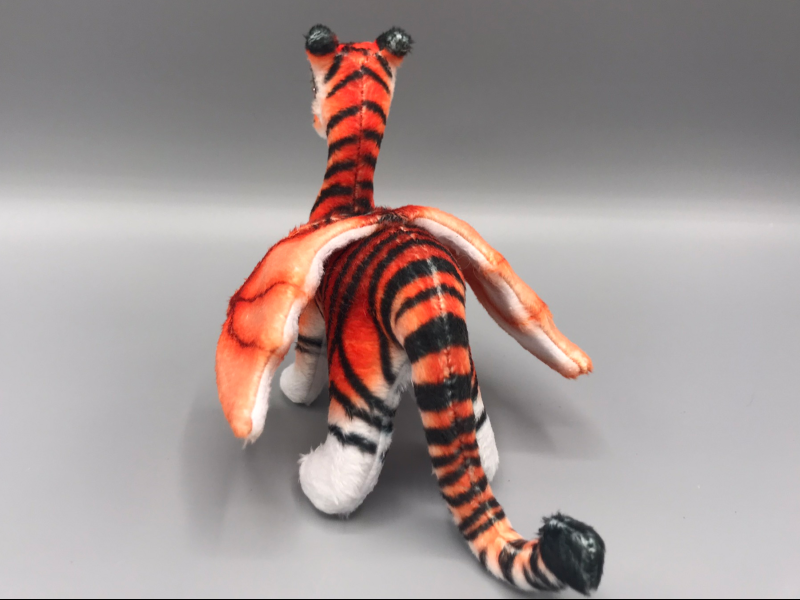 It's hard to find minky/mochi prints that are the correct scale for tiny plush like this, and even harder to make stripe patterns work. I had a request for a tiger-striped dragon, but I knew that Shannon's tiger stripe, while not nearly life-size, would be way too big. Plus, a stripe just gets weird around the curve of the tail, and of course would just go straight down the legs. Worse, each leg would either be all stripe or no stripe, and that would be weird.
But wait! I've mentioned doing print-on-demand fabric at Spoonflower here (a lot), and the designs are already in Inkscape, so why not make a custom-printed tiger stripe? And then try to exactly align stripes as narrow as 1mm on the embroidery machine? What could go wrong?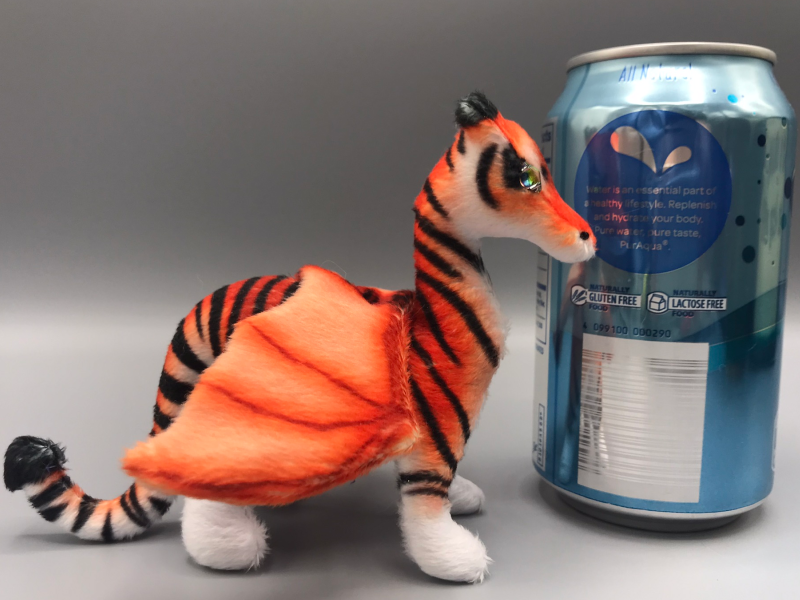 Surprisingly little went wrong, actually. I have three more still in that fat quarter, and now I'm not-so-subconsciously putting them off because maybe this one was a fluke. But in case it wasn't, I ordered another FQ of dragons of different designs. I don't expect to see that fabric for a couple of weeks at least.
This one, and any siblings I manage to successfully put together, will go in the first shop drop in quite awhile: this Sunday at 6 Eastern. They'll be joined by a few sparkly dragons, also in the 4" adult size, and by the lace-wing dragons who expired from the Etsy shop and will be moved into the Shopify one. Okay the last bit is less of a "drop" and more of a "lateral move," but whatever.
The sparkle dragons are mostly overflow from the M2O (since they get made two at a time): one each in peacock with rainbow sparkles, two colors of purple with rainbow sparkles, red with silver, ivory with gold (if it arrives on time), and gray with silver. Plus since I had the sparkle out and the file on the machine, two each in black with rainbow and white with rainbow, with rainbow embroidery on the wings (happy Pride, though that was coincidental).
I'll send out an official newsletter this week with more info.