Still fighting with computers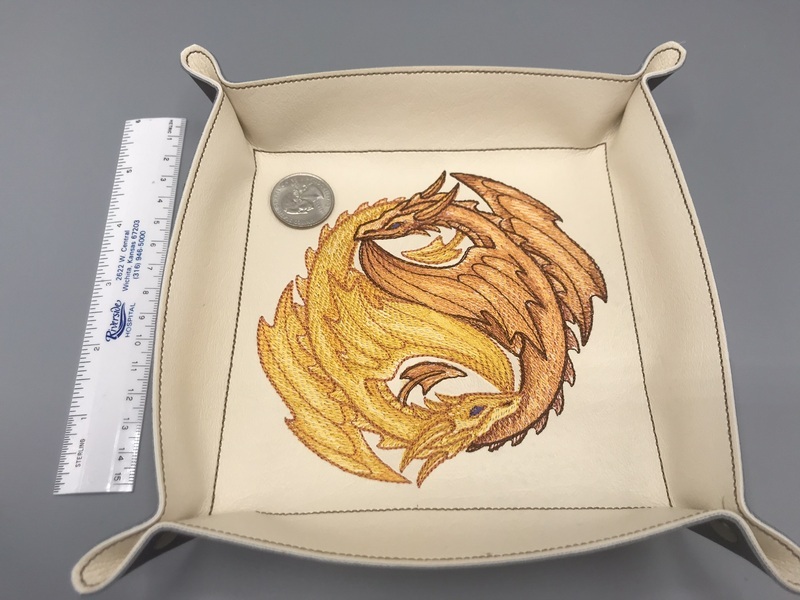 I really need to get the new zipper pouch design up, but late last night I realized I had the forum on a giant DigitalOcean droplet when really I need it on the smallest, cheapest one. Yay ADHD inattenttiveness? So today is migration day, and the forum was kinda down for a little while.
Also speaking of distractibility, I have been sitting on this design since Friday and couldn't take it anymore, I had to try it out.
I mean, I had tried it out with my too-limited palette of grays. Those dragons were supposed to be black and white, not gray and also-gray. But let's be honest, you know I was more interested in trying it in gold and bronze anyway.
There's one in the shop. I also went back and bought the 8x8" size (this one's the 5x5" size, the smallest it comes in) and will have to figure out what to put it on. It might just be for myself, because at that size the stitch count is enormous - almost $50 just for the design. Even the smaller size is at the high end - possibly not the best business decision to make one, but if I have to keep it, oh well.
So the software changeover has been an ordeal, but I can do such nifty things with it, like show you the shop entry instead of just linking to it: