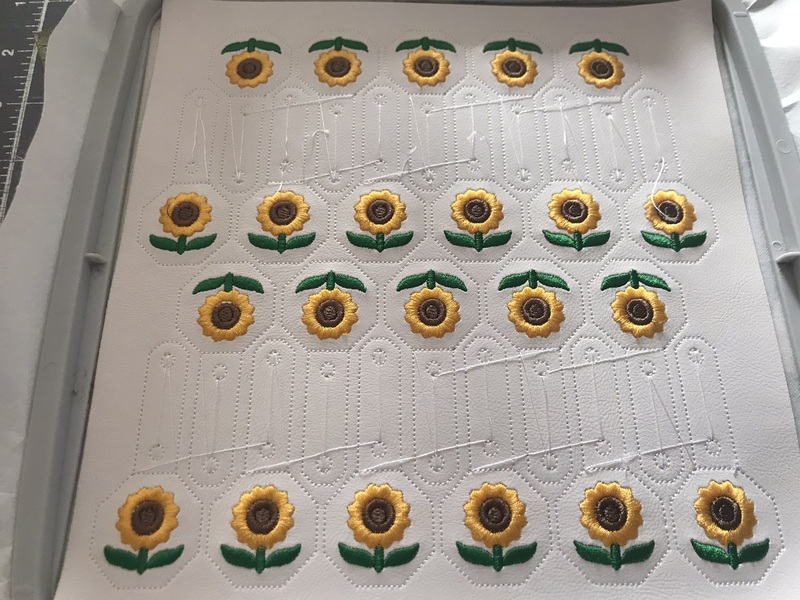 Being able to mass-produce keychains is handy if you want to use them as freebies, or have an inexpensive booth-filler item at craft shows, or make a bunch for a team or other group.
The octagon shape and tab mean these are all nice angle cuts, quick little chops with duckbills or rag-quilt snips.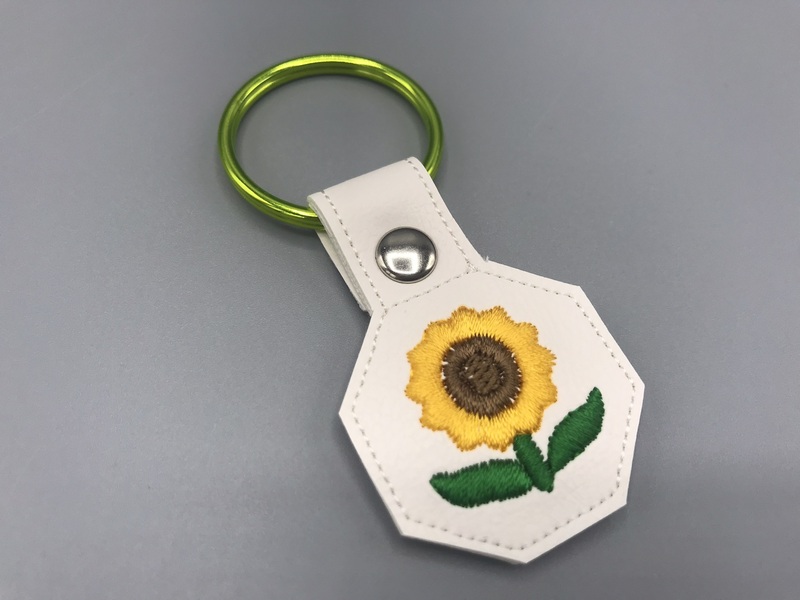 If your design isn't single-color, you'll want to color-sort to minimize thread changes.
There are five stitch colors in the embroidery files, and six layers in the SVG source.
Registration Marks
Coin Slot Buttonholes
Design (empty)
Snap Placement
Back Registration Marks
Outline
If you're putting a design on the front, stitch the registration marks and coin slots on what will be the back. Use a craft knife to open the coin slots. Hoop the front piece and stitch your design, snap placement, and back registration marks. Put the buttonhole sheet on the back of the hoop, carefully aligning the two sets of registration marks, and stitch them together.
If you're just using a fancy vinyl for the other side, leave the buttonhole sheet in the hoop, cut the slots, and put your fancy vinyl on the back. You can skip both sets of registration marks.
[Snap Tabs, 5-up (4x4, ZIP)] [Snap Tabs, 9-up (5x7, ZIP)] [Snap Tabs, 22-up (8x8, ZIP)]
As with other free embroidery patterns here, the SVG file is included in the ZIP package so you can modify it in Inkscape and produce your own variations/sizes/etc.
This is copyrighted by Silver Seams in the year noted in its URL, and licensed under Creative Commons' CC-BY-SA. This basically means you're free to sell items you make from it, provided you give reasonable attribution, and that if you modify it you're required to share your changes with the world under the same license (the actual legal bits are in the link).
Toss a coin to your stitcher! (Ko-Fi)
---
Alternate download method: If you "buy" this you'll have to register, but you'll get notified of any updates to the files. Your call!