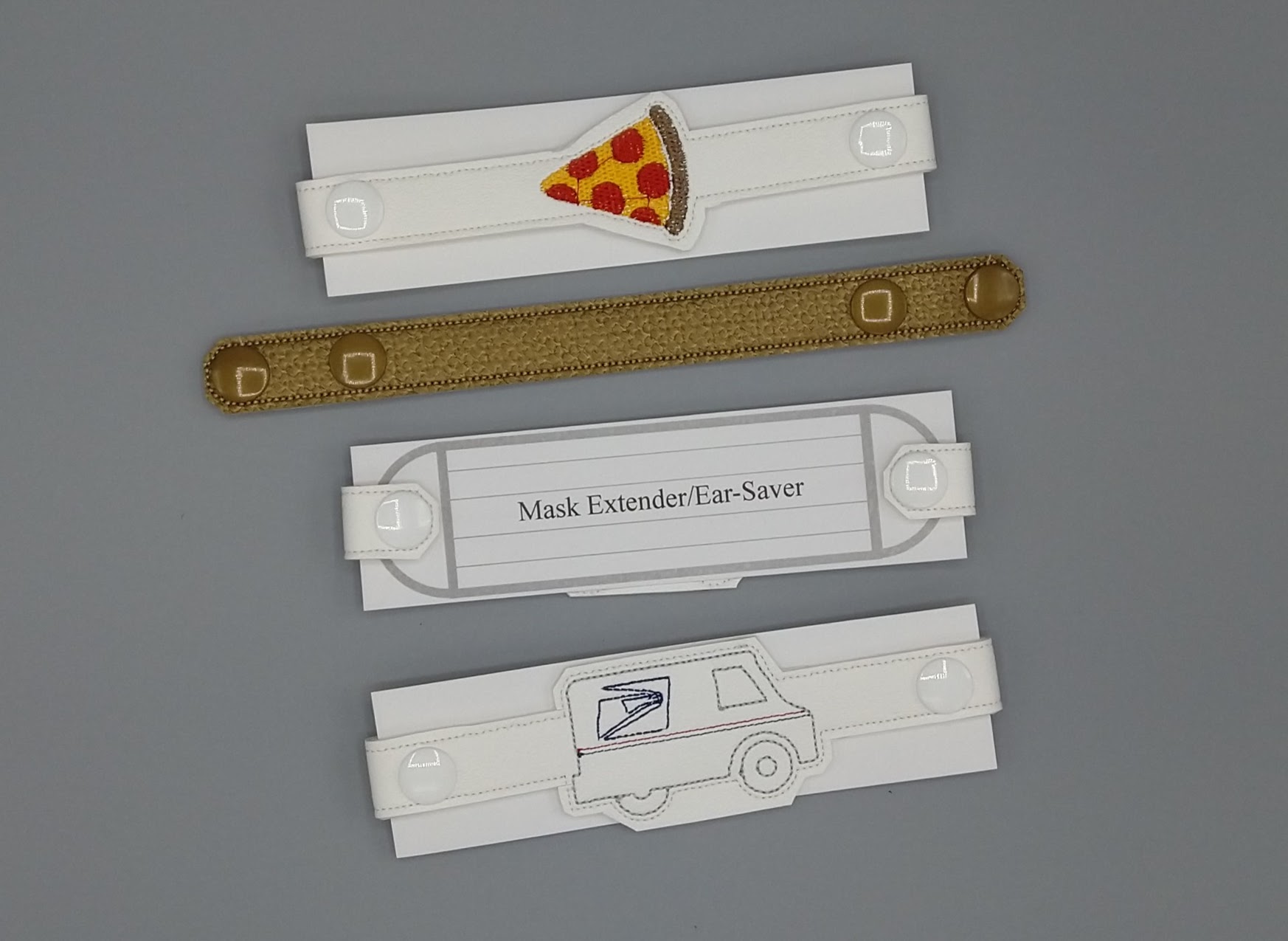 Mask Extenders/Ear Savers
Ear-loop masks can be a problem if you're wearing them all day, or if you have over-the-ear hearing aids, or if you wear glasses, or if you need to take your mask off but not risk it falling on the ground. Enter the mask extender, which converts the mask to an around-the-head style.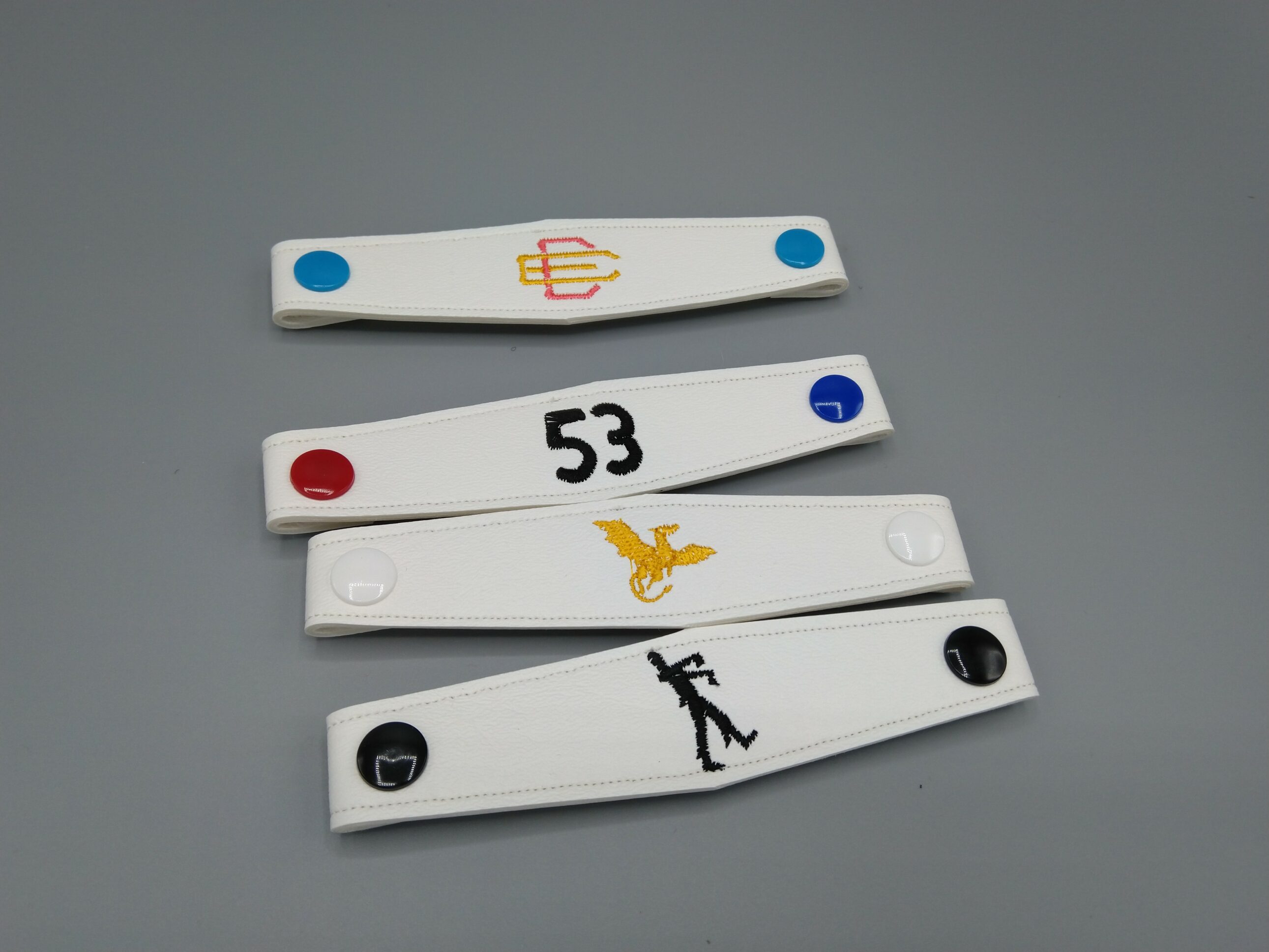 This is one case where I can't make a 4×4 design. If you have a smaller machine, you can instead embroider a design on 1/2″ – 1″ woven ribbon, and double the raw edges under to catch in the end snaps.
There are four variations on the extender shapes: the basic strap, just wide enough to accommodate KAMsnaps; the wide put-your-own-design-on-it kind; the Delivery Truck kind with logos for UPS, Amazon, USPS, and Fedex (all in one – you'll do a lot of color-skipping); and the Merry ChristmasK extender, on which you can put your own message.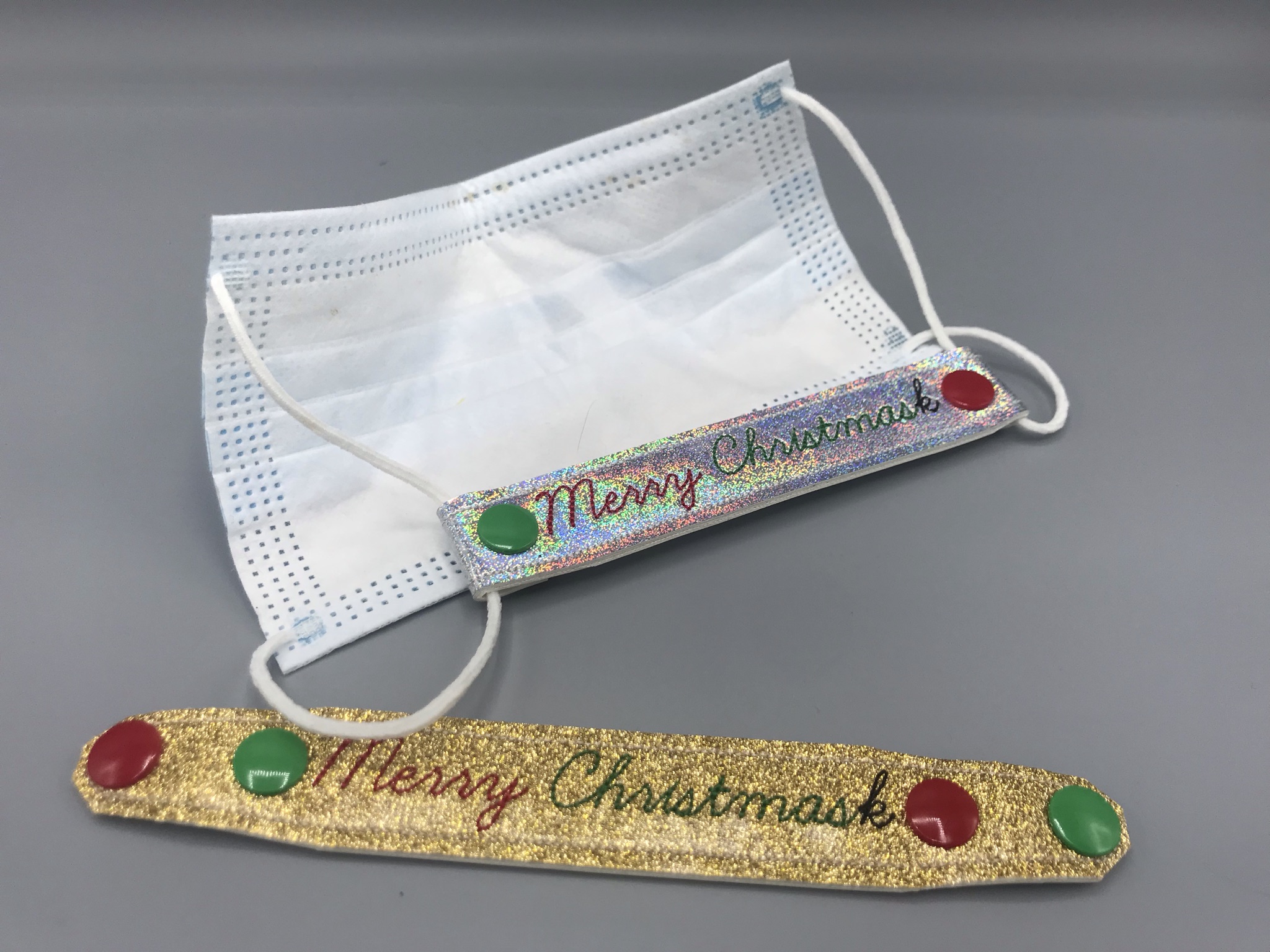 Instructions
The first color is an optional placement, to be stitched on the stabilizer. If you're using up scraps of vinyl, you might want this one. Otherwise just use a 5.5 x 7.5″ piece of vinyl and skip this one. Alternately, if you need a solid tackdown for designs, stitch it after placing the vinyl.
The lettering or design colors come next, on versions that have any. Or put in your own.
The second-to-last color is a snap marker, and is designed to be run without thread. There's no lock-stitch (though my Brother insists on doing one anyway) and it just punches a single hole at each snap insertion point. If this gives you trouble, just skip that color.
The last outline is where you put a second piece of vinyl on the back of the hoop, like you do when making a snap tab. It's hidden and not strictly mandatory in this case, but it protects the back of the embroidery.
After that, just put plastic or metal snaps on the marked points. Sometimes I add a second inner snap for use when masks' elastic gets stretched out (that shouldn't happen before a mask needs replaced, but Things Happen).
Since hopefully someday these will be obsolete, make them so that the snaps mate up when it's folded in half, and use them as a cord saver.
[Minimalist Mask Extender, 7-up (5×7, ZIP)]
[Wide Mask Extender, 4-up (5×7, ZIP)]
[Delivery Truck Mask Extender, 3-up (5×7, ZIP)]
[Merry ChristmasK Mask Extender, 5-up (5×7, ZIP)]
This is copyrighted by Silver Seams in the year noted in its URL, and licensed under Creative Commons' CC-BY-SA. This basically means you're free to sell items you make from it, provided you give reasonable attribution, and that if you modify it you're required to share your changes with the world under the same license (the actual legal bits are in the link).
This is a fan work, not licensed or endorsed in any way, so it's up to you to get any other permissions you need from the IP owner.
As with other free embroidery patterns here, the SVG file is included in the ZIP package so you can modify it in Inkscape and produce your own variations/sizes/etc.