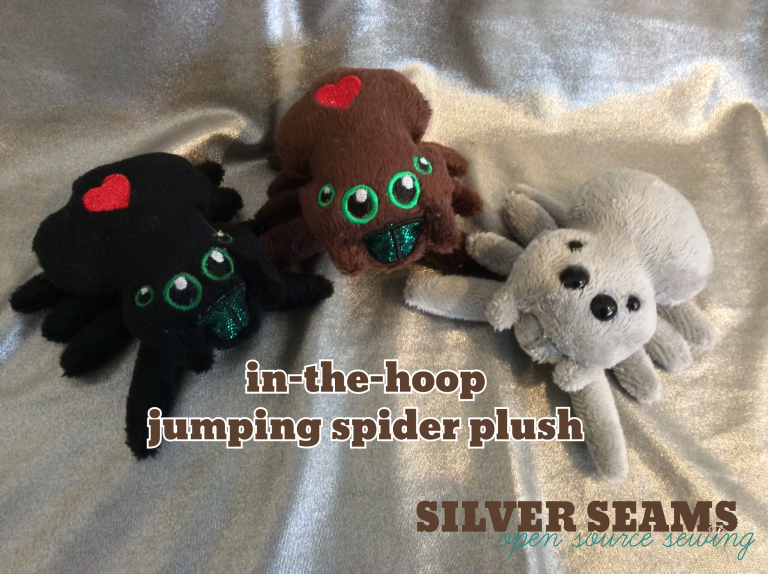 In-The-Hoop Plush Jumping Spider
This is designed as an in-the-hoop pattern for an embroidery machine but you can also sew it with a conventional machine and use safety eyes.
It's pretty simple: hoop up and embroider the top of the body, then put a second piece of minky on, right-sides-together, before "embroidering" the outer seam. Unhoop it, cut it out and turn it, then hoop up and "embroider" the seam of the legs, cut them out and turn them. Stuff the body, wire the legs with pipe cleaners if you want, then hand-sew the two pieces together and you're done. 2022 update: oh hey there's a step-by-step picture-laden tutorial in the ZIP file now, thanks to Ko-Fi supporters.
If you're sewing with a conventional machine, or you'd like to play around with Inkstitch to see how embroidery pattern design works, you'll want the SVG version. To make a pattern for conventional sewing, hide one layer, print, unhide, hide the other layer, print. Bonus: you're not limited to a 4×4" spider. Remember that the lines are sewing lines, not cutting lines.
If you're embroidering, pick the file that works best for your machine. Caveat: I've only used the Brother PES file, but there's nothing too boundary-pushing in this design so I expect the other versions to work fine. One exception might be in sizing – it runs up against the boundaries of my machine's "4×4" hoop so let me know if I need to size it down to meet the exact specs of other brands. 2022 update: This is a fully updated version, tested in a few new formats and by a lot more people; it should be fine everywhere.
---
Whoops!
Turns out Shopify has a massive bug in their downloadables, so I'm moving everything over to Gumroad as fast as I can. The download box will return!
---
If you make a spider, let me know! Send me an email or tag me on Instagram (don't forget the underscore in the middle there)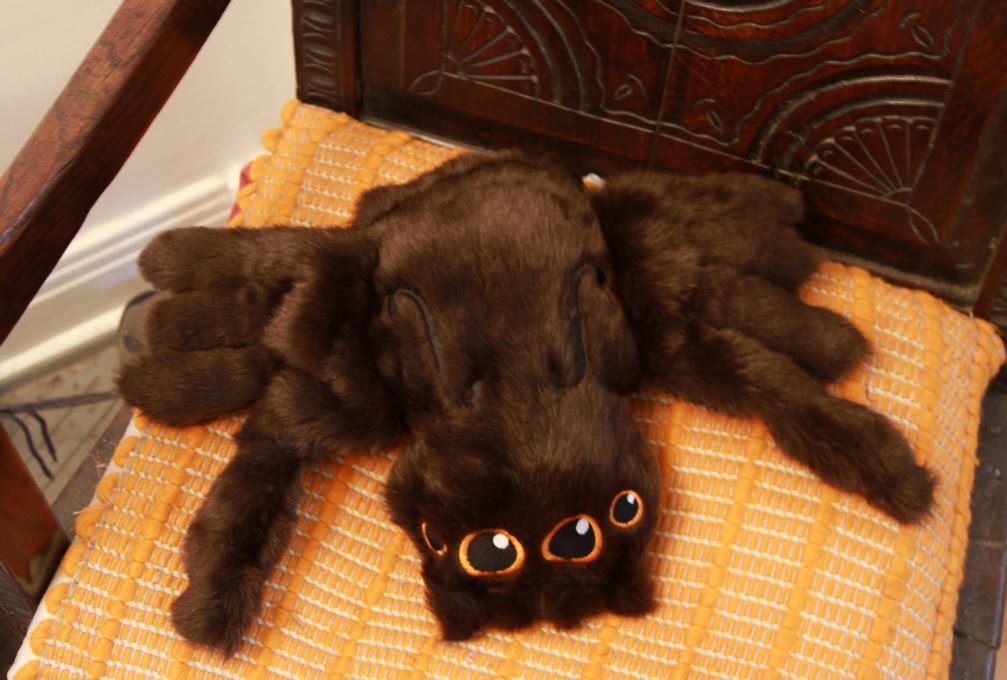 This is copyrighted by Silver Seams in the year noted in its URL, and licensed under Creative Commons' CC-BY-SA. This basically means you're free to sell items you make from it, provided you give reasonable attribution, and that if you modify it you're required to share your changes with the world under the same license (the actual legal bits are in the link).
As with other free embroidery patterns here, the SVG file is included in the ZIP package so you can modify it in Inkscape and produce your own variations/sizes/etc.
Toss a coin to your stitcher! (Ko-Fi)
This design was created with Inkscape 1.1 and Ink/Stitch v2.2.0.