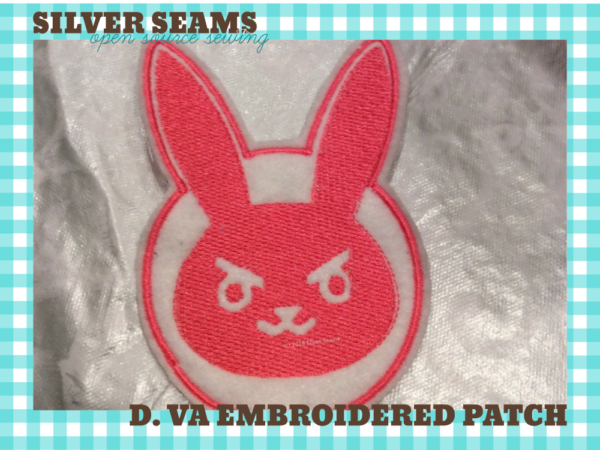 As you can tell by the image styling, this is a fairly old design. Since the picture was taken, I've updated the files for modern Ink/Stitch and added an optional patch binding edge - a faux-merrowing E-stitch in white. You can trim to the embroidery on felt it you'd like and skip that.
The first color is a tackdown. If you're planning on doing merrowing, do this color in white, then trim the felt or patch material close to the stitching line, otherwise you can do it in pink and trim it off if you don't want to change thread colors.
The second color is the pink design. (The eyes and mouth are left in background color.)
The last color is the edge binding, again in white.
This is copyrighted by Silver Seams in the year noted in its URL, and licensed under Creative Commons' CC-BY-SA. This basically means you're free to sell items you make from it, provided you give reasonable attribution, and that if you modify it you're required to share your changes with the world under the same license (the actual legal bits are in the link).
This is a fan work, not licensed or endorsed in any way, so it's up to you to get any other permissions you need from the IP owner.
As with other free embroidery patterns here, the SVG file is included in the ZIP package so you can modify it in Inkscape and produce your own variations/sizes/etc.