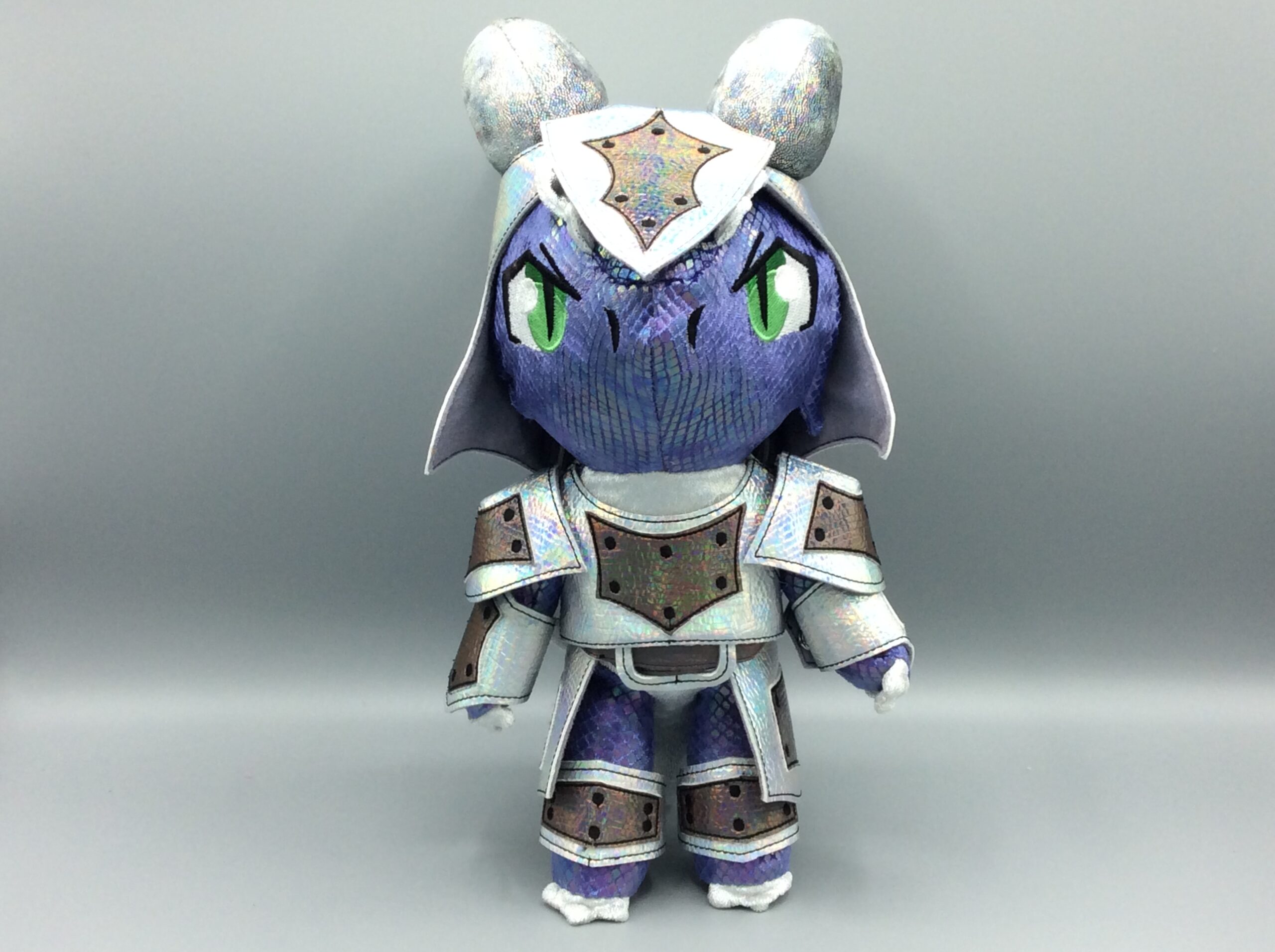 This "party" is a single character – a winged, tailed dragonborn paladin in enchanted armor.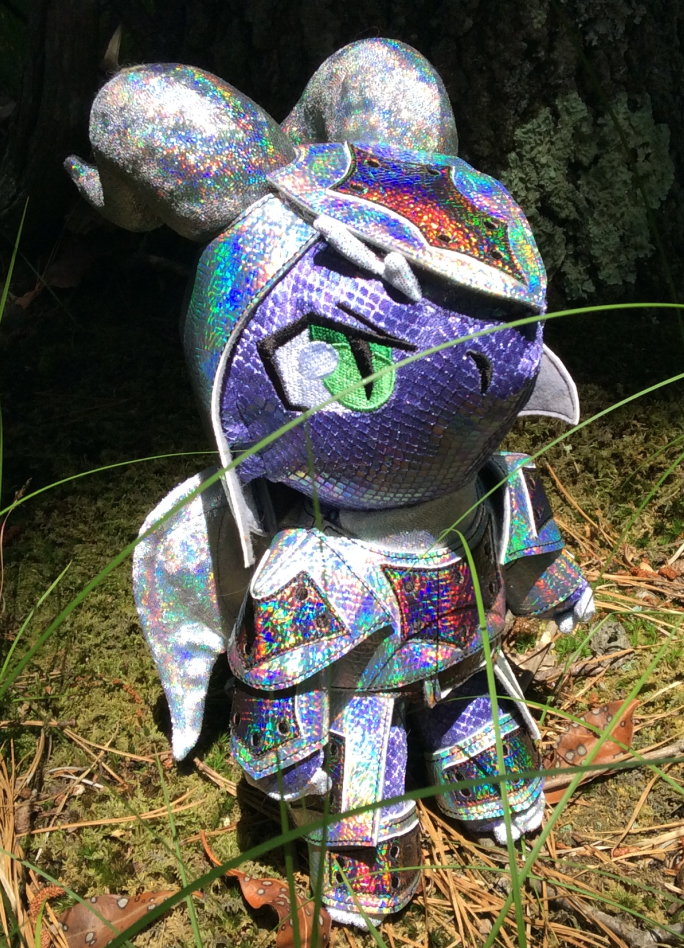 He wears a full set of armor: breastplate with wing opening, pauldrons, bracers, thigh guards, and shin guards, made from metallic textured silver iridescent vinyl with "riveted" gunmetal vinyl plates.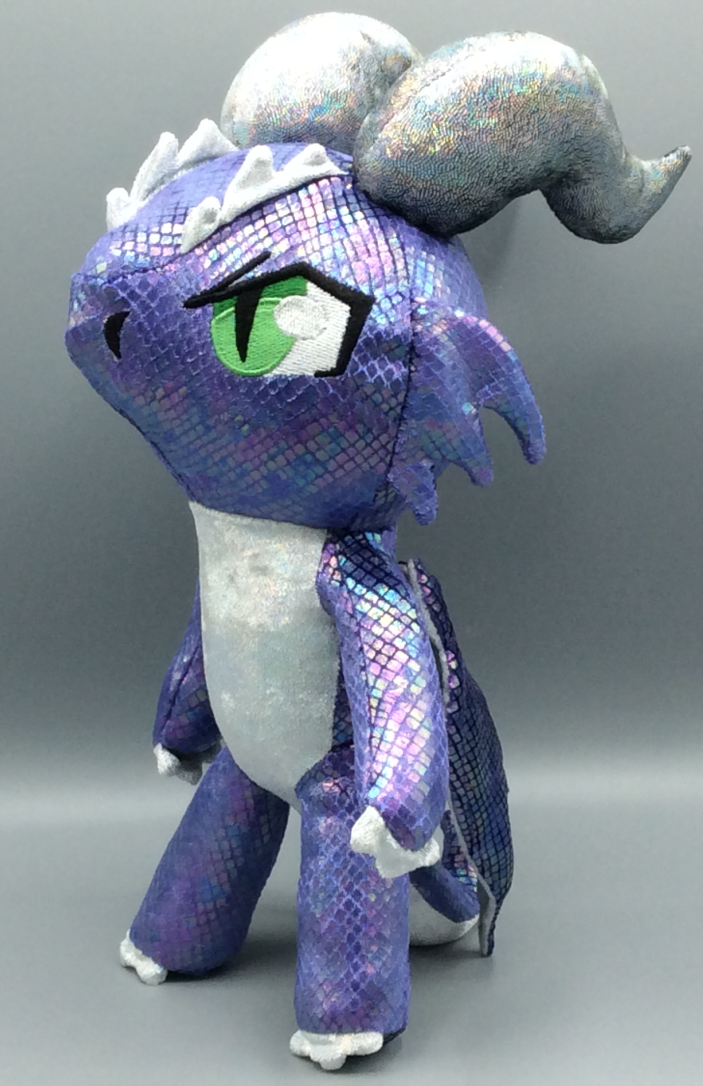 He is made from iridescent foiled diamond-scale purple velvet, with iridescent silver foiled mystique white velvet accents and iridescent silver foiled mystique black velvet horns.
His character sheet and name are currently secret, since he's a patron or encounter rather than a player character.
Specifications:
Head: Dragon (Purple Scaly Foiled Velvet)
Ears: Downward Spikes (Purple Scaly Foiled Velvet)
Hair: Nose Spikes (Silver/White Mystique Velvet)
Eyes: Lashed Eyes (Iris Dark: 1165; Iris Light: 1074; Lashes: 1043)
Eyebrows: None
Mouth: Nostrils (1043)
Horns: Wavy (Silver/Gray Mystique Velvet)
Body: Dragon (Purple Scaly Foiled Velvet, Silver/White Mystique Velvet)
Arms: Dragon Arms (Purple Scaly, Silver/White Mystique Velvet Claws)
Legs: Dragon Legs (Purple Scaly, Silver/White Mystique Velvet Claws)
Tail: Dragon body (Silver/White Mystique Velvet Spikes)
Wings: Swooping Dragon (Purple Scaly Foiled Velvet, Silver/White Mystique Velvet)
Shirt: Breastplate+Pauldrons+Bracers (Wing Opening, Metallic Texture Vinyls: Silver/Gunmetal, Embroidery: Rivets (1005))
Pants: Thigh Guards + Shin Guards (Metallic Texture Vinyls: Silver/Gunmetal, Embroidery Rivets (1005))
Headgear: Dragon Helmet (Metallic Texture Vinyls: Silver/Gunmetal, Embroidery Rivets (1005))