Bierock Recipe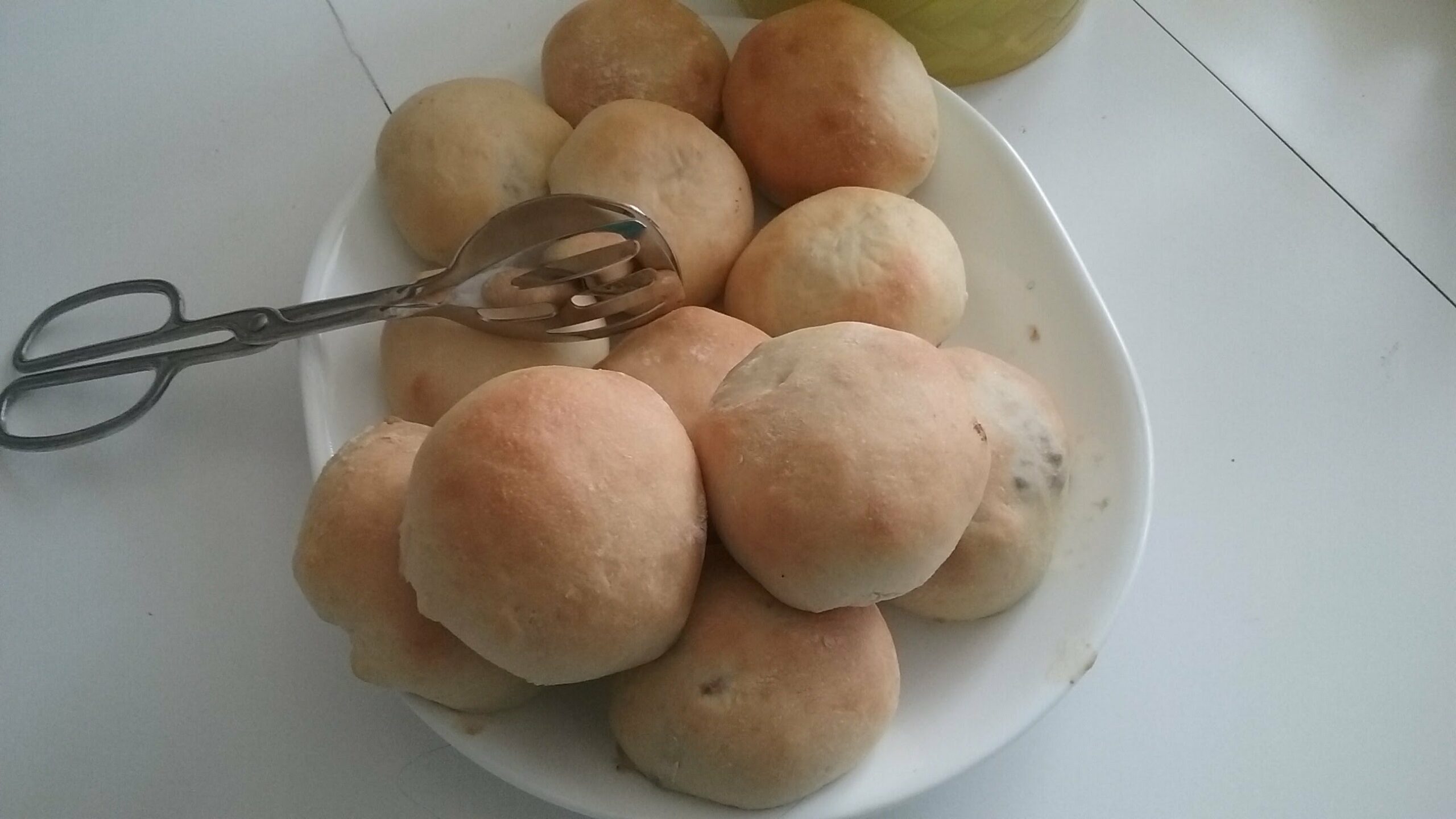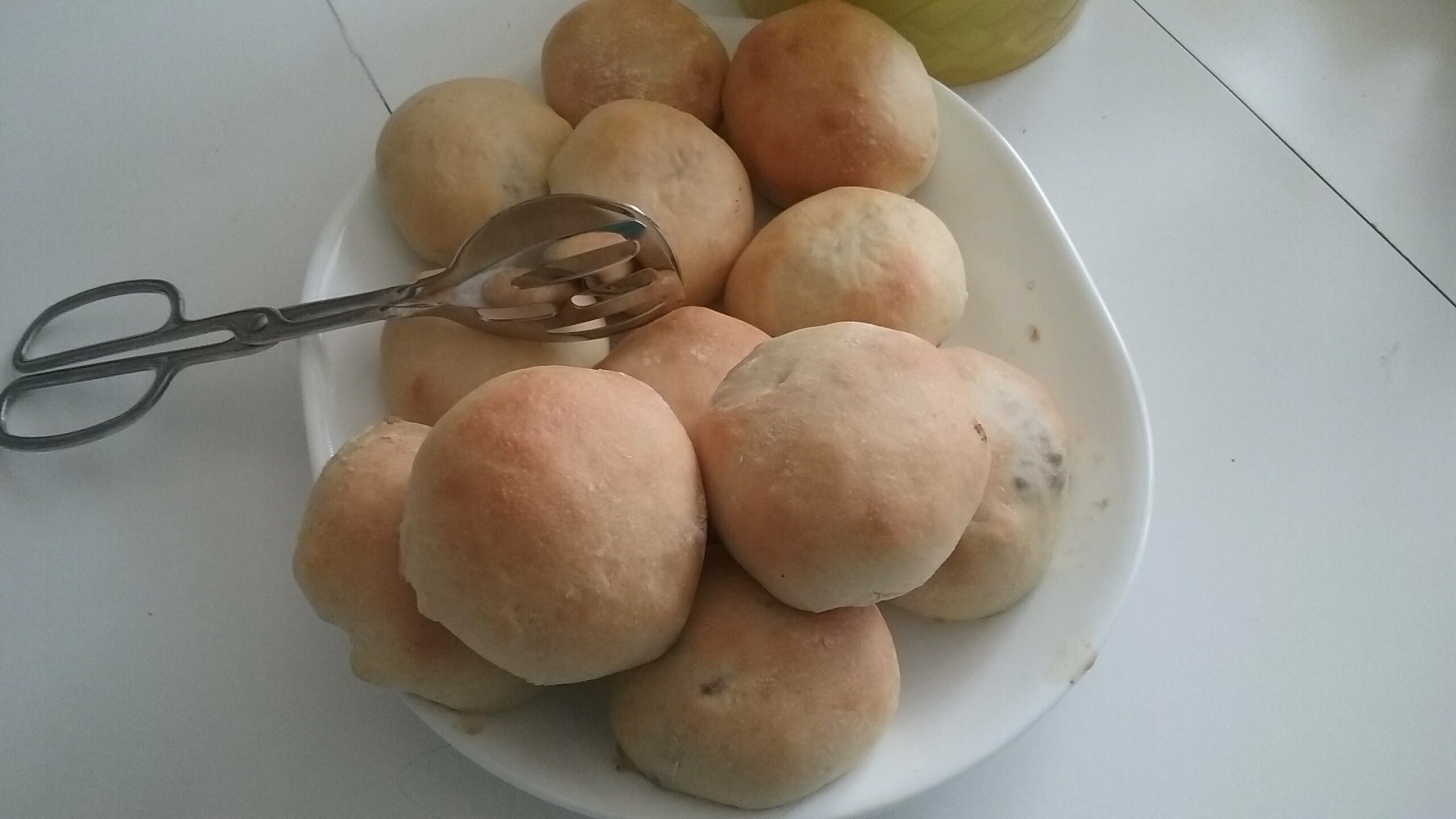 Bierocks are a thing we miss from Kansas: ground beef and cabbage and onion in a bread pocket. When cabbage goes on sale around St. Patrick's Day, it's bierock time.
That's it, that's the story*, now here's the recipe.
Bierocks (makes 60)
5 lbs ground beef (I use 85/15)
2 heads cabbage, shredded (about 20 cups)
3 onions, chopped (about 3 cups)
5-6 teaspoons salt
5-6 teaspoons pepper
5 boxes Pillsbury Hot Roll mix**
Brown the ground beef. Use a slotted spoon to remove it to a covered bowl. I keep mine warm in a low oven while I'm doing the cabbage, because that takes awhile.
Cook the cabbage and onions down in the ground beef drippings, until the liquid is almost all cooked off and everything starts to brown a little (or a lot, but don't burn it). This may require two batches, since it's about twice the volume of the ground beef, so reserve drippings if you need to, or add a little water and maybe a smidge of vegetable oil to the second batch.
Mix the ground beef, cabbage, onions, salt, and pepper thoroughly. You can refrigerate or even freeze the filling at this point. Warm it up again before you make the bierocks, especially if you're doing a post-shaping rise (see below).
If you're picky about the filling/dough coming out even, do like me and divide the filling into five portions, one per box mix.
Make the hot roll mix according to package directions. Depending on the size of your oven, you'll only want to make one or two boxes' worth at a time. I let it rise before dividing it, but some people let it rise after making the bierocks. My way's a little crustier, the other way's a little fluffier.
Preheat the oven to 375.
Divide the dough into twelve pieces per mix. Flatten them out to five or six inches across. Put a spoonful of filling on each one, then wrap the edges around, seal, and put it on a baking sheet seam side down.
Bake for 15-20 minutes, until they're nicely browned.
Some folks put cayenne in them. Some folks put in cheese. Some folks even make them with sausage instead of ground beef, or potatoes instead of cabbage, though I've never encountered this personally. Some folks eat them with ketchup, or mustard, or gravy. You really can't go wrong with them.
* Sorry, I'm not one of those bloggers who does fancy food photography of each step while telling you a long-winded story that you have to scroll through every time you reference the recipe.
** You'll notice there are a lot of fives there – you can make a single batch, and sometimes I do. More often, I make a full 5x batch of filling and freeze four of them. Also, you can use any dinner roll recipe instead of the mix. I often make BHG Overnight Refrigerator Rolls the same day as the filling, then bake everything the next day. The whole bierocks freeze pretty well too, but usually don't last long enough for that around here. I've also parbaked them, frozen them, then thawed and finished baking them later.