Lego-like Advent Calendar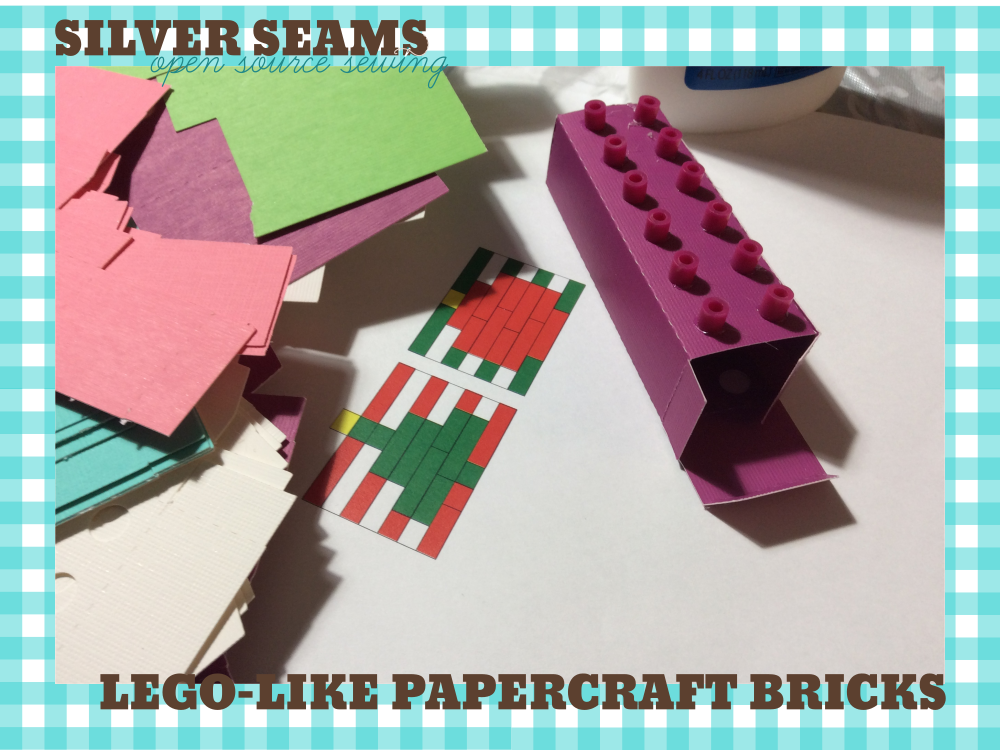 Here's a brief detour into papercraft with an Advent calendar. Probably too late to do anyone any good this year but honestly I finished filling this one sometime after midnight last night just in time to throw it in a suitcase and ship it with my husband back to Wichita. And didn't get a picture of the stacked "bricks," just of this lonely leftover. This is SOP for me, never mind that I had the pieces cut weeks ago.
I got my twin nieces a couple of Lego/MegaConstruxx advent calendars. Problem: the Lego Friends one was a LOT more robust than the MegaConstruxx American Girl one (even allowing for the price difference and the Aldi discount on the latter, grumble grumble) so I couldn't just ship them off as is. The pieces will go into the communal toy collection, sure, and I guess I could have said "alternate opening the kits" but still. The solution: gut both calendars, and alternate filling the drawers from each set with an on-theme building-brick calendar.
I will confess to not having invented this at all. I first saw it on paper, plate and plane back in 2010 (alas, the blog stopped updating in 2014) as a printable to be hand-cut. I don't know if that's the original. At any rate, with some tweaks to make the boxes fit together a little more nicely, I built a cutting file. Here it is in 12×12 SVG:
[Paper Cutter Lego-Like Bricks] The PP&L instructions involved using a hole punch on craft foam, stacking three punched pieces for every stud, and using a pencil to enlarge the holes so that the studs fit properly. For two calendars, with an extra four studs in the Christmas-ornament layout, that would work out to 1212 punches. AIN'T HAPPENING. And then I had a small epiphany: Perler beads come in an amazingly broad range of colors, and they're small enough to easily fit in the holes made by a standard paper punch. (Sure, I could make larger holes since I was cutting them on the Cameo, but still.)
Hot-melt glue grabs nicely onto the beads, so I sacrificed one of the excess pieces as a template, glued down "studs" through the template's holes, and lifted off the template. Then I creased the boxes on their score lines, ran a line of white glue along the tab, and folded up the box. You could do this with scrapbooking "glue" dots, but it's better to be able to reposition the tab so the end flaps fit precisely.
The boxes are an inch deep and 3/4″ tall, and the MegaConstruxx calendar pieces fit easily with the exception of two long rods which both fell on 2×2 days. I could have shuffled the order so they went in larger boxes, but things were already complicated enough. Sadly, when I opened up the Lego calendar, I realized I had seriously underestimated the number of bricks going on there. (It felt like a lot more bricks than the Star Wars calendar we had last year, but I haven't looked up the brick count. Maybe not having to pay the licensing fee makes for more of the price going into actual bricks?) So as many bricks as would fit went in, and the rest went back into the slot on the original calendar. It's not entirely satisfying, but on the other hand they'll be referring to that for the build instructions anyway.
If I had it to do again, I think I'd just buy a regular Lego kit and allocate a few pieces to each day. Lego has a PDF of all of their instructions, so a day-by-day printout would preserve at least some suspense about the finished project.
And now I have to clean up after my feline assistants, who evidently resented the fact that Perler beads being poured into a pyrex bowl sounded kind of like kibble being poured into a metal cat food dish, and knocked both the bead bowl and the paper-scrap bowl on the floor when my back was turned.