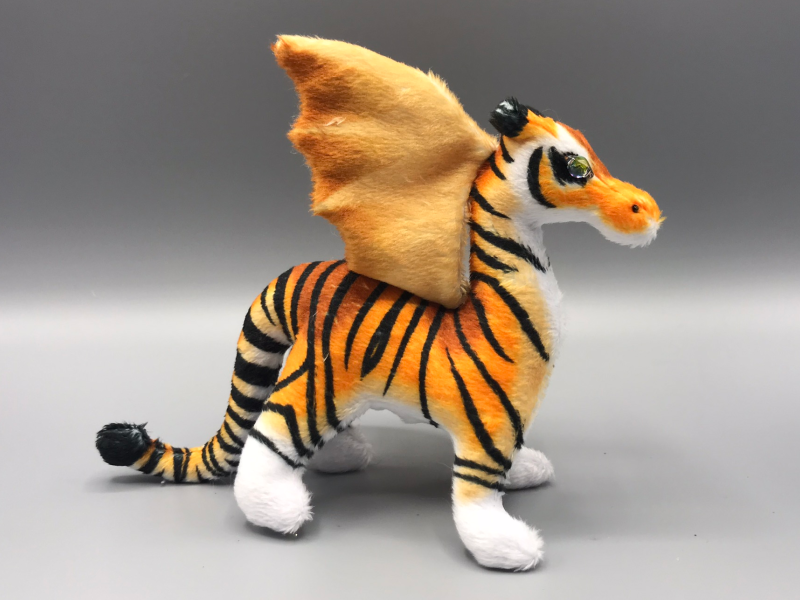 Tiger Dragon - Micro Plushie
This dragon is made from fabric specifically printed for my dragon pattern. It's not airbrushed - the fabric is printed this way at the factory. It's slightly shorter than the usual Shannon solids I use, but like other digital prints the under-fur is white and will show slightly on the horns and muzzle.
Alignment is a challenge on these dragons, and the price reflects it. This dragon is nearly perfect - it looks like its markings were airbrushed on but without the texture change painting fabric can cause.
The eyes are "backlit" (clear with an iridescent backing) pressed glass beads and its nostrils are tiny glass seed beads.
The wing "fingers" and back ridge are embroidered on top of the wings. They are unwired but will hold their position to a limited degree.
Despite its toy-like appearance, this is an adult collectible with small parts that could pose a choking hazard. Made in a smoke-free but cat-occupied home from an original Silver Seams pattern. The props are just for scale and not included in this listing. The cat hair is also not included but will probably be sent to you despite my best efforts. You are buying one dragon.
List Price: 99.99