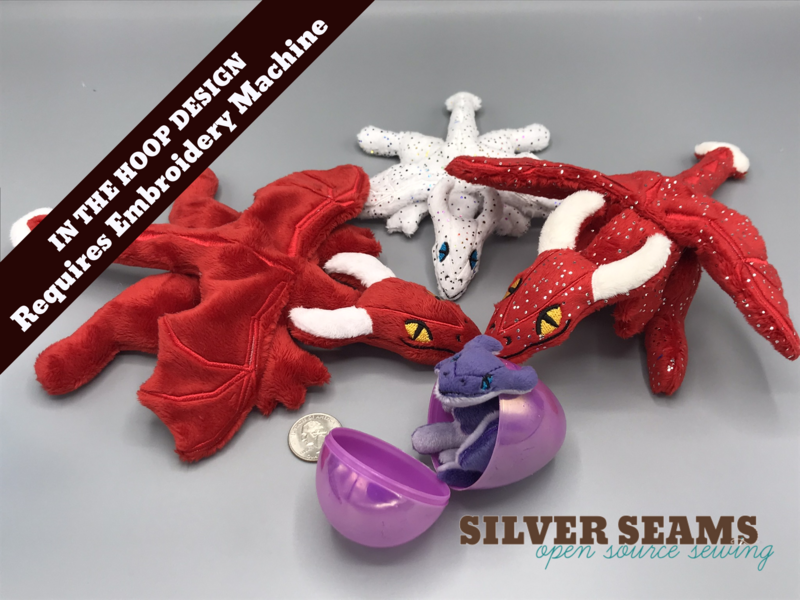 In-the-hoop Plush Dragon Design
This is a three-part dragon plushie design, made in two hoopings in an embroidery machine. It produces an adorable little beanie-type dragon that you can keep, gift, or sell.
It can be made in a 4x4 hoop, a 5x7, a 6x10, an 8x8 - and in keeping with my Open Source Sewing principles, the SVG files are included so you can produce any other sizes you need.
The dragon requires a little bit of hand-assembly, but I''ve kept it as simple as possible. The turning openings end up inside the attachment points, so you don''t have to ladder-stitch seam openings.
I''ve got a lot of variations: eyes can be fully embroidered, appliqued, or appliqued with embroidered pupils. Horns can be spikes, two shapes of long horns, or headknobs. The tail spade can have contrast applique, as can both types of long horns. A contrast belly can be appliqued. And the body can have four limbs (for a traditional dragon) or just hind limbs (for a wyvern type).
The wings have embroidered "fingers," and embroidered ridges run down the back. The mouth and head ridges come in two weights - satin, for larger dragons, or bean stitch for smaller dragons or more fragile fabrics.
The design will take nearly any stretch fabric, and some non-stretchy ones. You can make them out of minky, mochi, fleece, stretch velvet, even dancewear and performance fabrics.
The files come in PEC, PES, EXP, DST, JEF, VP3, and U01 formats, along with the SVG source file that you can edit in Inkscape+Ink/Stitch. There is a step-by-step PDF that includes full instructions, including a picture of every stitch color step.
You can make plushies to sell, and I highly encourage it.
List Price: 19.99