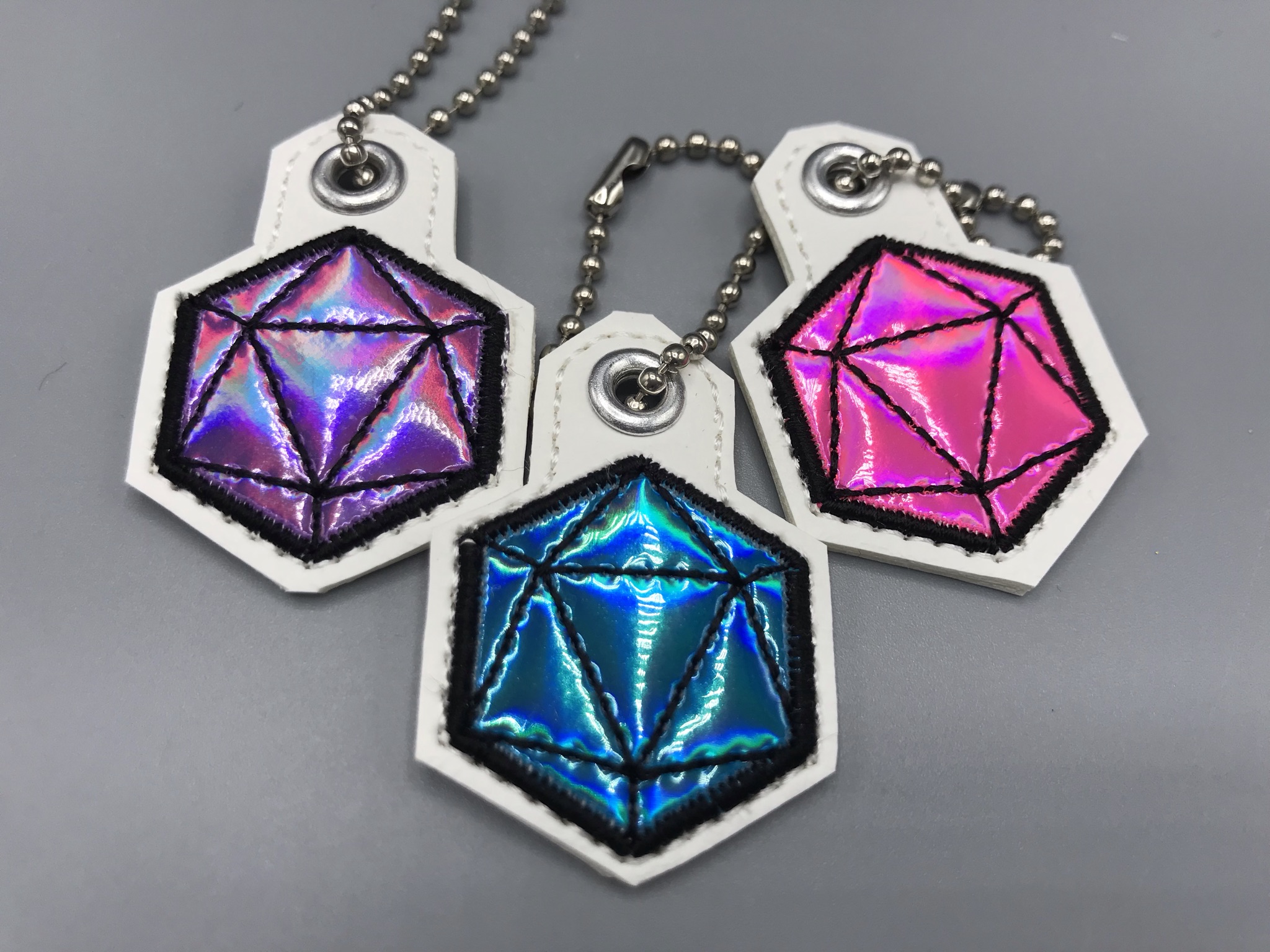 Applique icosahedron dangle
This minimalist dangle is ideal for fancy vinyl appliques that evoke premium dice: glitter vinyls, iridescents, and so on. The 4×4 version is 6 up, while the 5×7 packs 16 into a single hoop. As always, the SVG source is included in case you want to re-size them, rearrange them to fit a different hoop, extend the tab to make a snap tab instead of a dangle, etc.
Either version has five thread "changes" (the first four of which should use black thread, the last of which should use white or whatever your base vinyl color is – remember the bobbin too):
Placement stitch. This will give you brackets to align strips of fancy vinyl. (If you want to use up scraps, run the applique tackdown twice.) Stitch this on top of your base vinyl – remember that you'll need a little over half an inch above the first stitch for the eyelet tab.
Applique tackdown. After placing the fancy vinyl and running this one, use applique scissors to trim very close to the stitching. It's okay if you nick the stitches at this point, they'll be covered by the satin.
Design. This is the actual icosahedron/die stitching.
Eyelet placement. This is optional, and can be run before or after placing the vinyl on the back.
Outline. Run this one in a color that matches the base vinyl, and after placing another piece of vinyl on the back of the hoop.
After this, just trim around the dangles, punch the holes and set the eyelets.
[Icosahedron Dangles (4×4)] [Icosahedron Dangles (5×7)]
This is copyrighted by Silver Seams in the year noted in its URL, and licensed under Creative Commons' CC-BY-SA. This basically means you're free to sell items you make from it, provided you give reasonable attribution, and that if you modify it you're required to share your changes with the world under the same license (the actual legal bits are in the link).
As with other free embroidery patterns here, the SVG file is included in the ZIP package so you can modify it in Inkscape and produce your own variations/sizes/etc.